E-mini instant water heater with tap
M / BGS (Alt/EoL)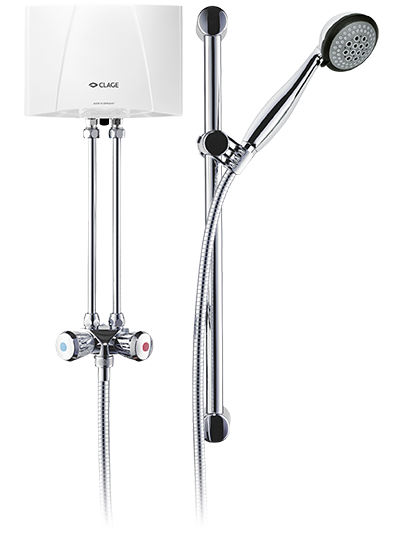 M 4 / BGS




no longer available

M 6 / BGS




no longer available

M 7 / BGS




no longer available
Archive product
This product is no longer available.

If you have any questions, please contact our After-Sales Service or visit our online spare parts shop. Please have the device type, serial number and, if available, your CLAGE customer number ready.

After-Sales Service
Phone +49-4131-8901-400
service@clage.de

Visit our online spare parts shop here.
Hydraulically controlled instantaneous water heater< (over-sink unit) in mini format as shower unit with wall bar and fitting
The full heating power switches on automatically as soon as water flows through the device
Efficient flow technology for optimum water jet with economical water consumption
Bare-wire heating system IES® with replaceable heating cartridge ensures longer service life, less calcification and is efficient and easy to maintain
Removable type plate cover for access to the central cover screw and water quantity adjustment
Power cable, length: 65 cm
Pressureless design
Dimensions (height × width × depth): 13.5 × 18.6 × 8.7 cm
Data. Values. Facts.
| | | |
| --- | --- | --- |
| | | |
| | | |
| M 4 / BGS | M 6 / BGS | M 7 / BGS |

| | | |
| --- | --- | --- |
| 1500-17304 | 1500-17306 | 1500-17307 |
Media type
Title
Date
Size

Product information sheet

MBGS-PI-en.pdf

18.10.2018

> download
Product information sheet
MBGS-PI-en.pdf
18.10.2018
631 kB
> download

Operating and installation instructions

MO-GMA-de-en-fr-nl-pl-cs-sk-no-sv-bg-fi-pt-es.pdf

29.09.2022

> download
Operating and installation instructions
MO-GMA-de-en-fr-nl-pl-cs-sk-no-sv-bg-fi-pt-es.pdf
29.09.2022
8,0 MB
> download
Older versions

>

Operating and installation instructions
MO-GMA-de-en-fr-nl-pl-cs-sk-no-sv-bg-fi-pt-es-03-2021.pdf> download
> download
Operating and installation instructions
MO-GMA-de-en-fr-nl-pl-cs-sk-no-sv-bg-fi-pt-es-07-2019-BUCH-Online.pdf> download
> download
Operating and installation instructions
MO-GMA-de-en-fr-nl-cs-sk-sv-pt-10-2018-BUCH-Offset.pdf> download
> download
Operating and installation instructions
MO-GMA-de-en-fr-nl-pl-cs-sk-no-sv-bg-fi-pt-es-11-2017.pdf> download
> download
Operating and installation instructions
MO-GMA-de-en-fr-nl-cs-sk-sv-pt-09-2017.pdf> download
> download
Operating and installation instructions
MO-GMA-de-en-fr-nl-cs-sk-sv-pt-06-2016.pdf> download
> download
Operating and installation instructions
MO-GMA-de-en-fr-nl-pl-cs-sk-no-sv-bg-fi-pt-es-02-2015.pdf> download
> download
Further versions on request

Safety instructions

Sicherheitshinweise-Durchlauferhitzer-de-en-fr-nl-pt-es-pl-sv-cs-sk-bg-no-fi-ru-sr-el-it-tr-ro.pdf

19.03.2021

> download
Safety instructions
Sicherheitshinweise-Durchlauferhitzer-de-en-fr-nl-pt-es-pl-sv-cs-sk-bg-no-fi-ru-sr-el-it-tr-ro.pdf
19.03.2021
483 kB
> download

Energy label

M6-Energielabel.pdf

06.09.2017

> download
Energy label
M6-Energielabel.pdf
06.09.2017
220 kB
> download

Energy label

M7-Energielabel.pdf

06.09.2017

> download
Energy label
M7-Energielabel.pdf
06.09.2017
220 kB
> download

Energy label

M4-Energielabel.pdf

06.09.2017

> download
Energy label
M4-Energielabel.pdf
06.09.2017
220 kB
> download

ErP product sheet

M3-M7-ErP-ErP-Produktdatenblatt.pdf

13.02.2017

> download
ErP product sheet
M3-M7-ErP-ErP-Produktdatenblatt.pdf
13.02.2017
96 kB
> download

CE Conformity

CE-Konformitaetserklaerung-nach-RoHS3-M-2022-06.pdf

30.06.2022

> download
CE Conformity
CE-Konformitaetserklaerung-nach-RoHS3-M-2022-06.pdf
30.06.2022
2,5 MB
> download