E-mini instant water heater with tap
M / BGS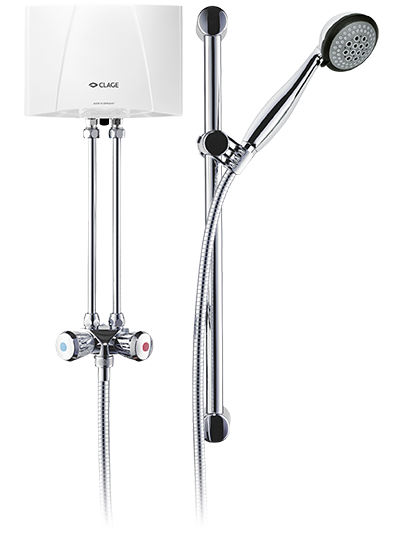 Energy efficiency class A
(scale: A+ to F)
M 4 / BGS

: 4.4 kW, 230 V


M 6 / BGS

: 5.7 kW, 230 V


M 7 / BGS

: 6.5 kW, 400 V

This is where the M / BGS is used.
Attic or basement conversion

Single shower (e.g. guest bathroom)

Garden shelter, at the swimming-pool
Kits for below and above.
The small instantaneous electric water heater with shower mixer and shower set is a smart solution for hot showers if only a single-phase power connection (M7 BGS: two-phase power connection) is available. With economical comfort requirements, e.g. in garden houses, attic or basement conversions or at the swimming pool, this instantaneous water heater complete with wall rail and shower fitting is a practical solution.
Hydraulically controlled instantaneous water heater< (over-sink unit) in mini format as shower unit with wall bar and fitting
The full heating power switches on automatically as soon as water flows through the device
Efficient flow technology for optimum water jet with economical water consumption
Bare-wire heating system IES® with replaceable heating cartridge ensures longer service life, less calcification and is efficient and easy to maintain
Removable type plate cover for access to the central cover screw and water quantity adjustment
Power cable, length: 65 cm
Pressureless design
Dimensions (height × width × depth): 13.5 × 18.6 × 8.7 cm
Data. Values. Facts.
| | | |
| --- | --- | --- |
| | | |
| | | |
| M 4 / BGS | M 6 / BGS | M 7 / BGS |

Part number
Nominal power rating [kW]
Maximum operating pressure [MPa (bar)]
Water connections device (thread connections)
Water connections tap (thread connections)
Hot water output at Δt = 25 K 1) [l/min]
Switch-on flow rate [l/min]
Maximum flow rate 2) [l/min]
Supply voltage [1~ / N / PE 230 V AC] permanent connection
Supply voltage [2~ / PE 400 V AC] permanent connection
Nominal current [A]
Required cable diameter [mm²]
Maximum inlet temperature [

°C

]
Protection class
Specific water resistance at 15

°C

[Ωcm] ≥
Weight filled with water [kg], approx.

| | | |
| --- | --- | --- |
| 1500-17304 | 1500-17306 | 1500-17307 |
| 4.4 | 5.7 | 6.5 |
| 0 (0) | 0 (0) | 0 (0) |
| G ⅜" | G ⅜" | G ⅜" |
| G ½" | G ½" | G ½" |
| 2.5 | 3.5 | 3.7 |
| 1.8 | 2.1 | 2.4 |
| 1.5 | 3.3 | 3.7 |
| | | |
| | | |
| 19 | 25 | 16 |
| 2.5 | 4.0 | 2.5 |
| 20 | 20 | 20 |
| IP 25 | IP 25 | IP 25 |
| 1100 | 1100 | 1100 |
| 1.2 | 1.2 | 1.2 |
1) Temperature increase e.g. from 15 °C to 40 °C
2) Limited flow amount for optimal temperature increase by water flow adjustment
Media
Title
Date
Size

Product information sheet

MBGS-pi-en.pdf

18.10.2018

> download
Product information sheet
MBGS-pi-en.pdf
18.10.2018
631 kB
> download

Operating and installation instructions

MO-GMA-de-en-fr-nl-pl-cs-sk-no-sv-bg-fi-pt-es.pdf

20.11.2017

> download
Operating and installation instructions
MO-GMA-de-en-fr-nl-pl-cs-sk-no-sv-bg-fi-pt-es.pdf
20.11.2017
6,1 MB
> download
Older versions

>

Operating and installation instructions
MO-GMA-de-en-fr-nl-cs-sk-sv-pt-10-2018-BUCH-Offset.pdf> download
> download
Operating and installation instructions
MO-GMA-de-en-fr-nl-cs-sk-sv-pt-09-2017.pdf> download
> download
Operating and installation instructions
MO-GMA-de-en-fr-nl-cs-sk-sv-pt-06-2016.pdf> download
> download
Operating and installation instructions
MO-GMA-de-en-fr-nl-pl-cs-sk-no-sv-bg-fi-pt-es-02-2015.pdf> download
> download
Further versions on request

Operating and installation instructions

M-MBH-Beiblatt-de-en-fr-nl-pt-es-cs-sk-bg-fi-no-sv.pdf

28.05.2018

> download
Operating and installation instructions
M-MBH-Beiblatt-de-en-fr-nl-pt-es-cs-sk-bg-fi-no-sv.pdf
28.05.2018
43 kB
> download

Safety instructions

Sicherheitshinweise-Durchlauferhitzer-de-en-fr-nl-pt-es-pl-sv-cs-sk-bg-no-fi-ru-sr.pdf

29.01.2019

> download
Safety instructions
Sicherheitshinweise-Durchlauferhitzer-de-en-fr-nl-pt-es-pl-sv-cs-sk-bg-no-fi-ru-sr.pdf
29.01.2019
572 kB
> download

Energy label

M6-Energielabel.pdf

06.09.2017

> download
Energy label
M6-Energielabel.pdf
06.09.2017
220 kB
> download

Energy label

M7-Energielabel.pdf

06.09.2017

> download
Energy label
M7-Energielabel.pdf
06.09.2017
220 kB
> download

Energy label

M4-Energielabel.pdf

06.09.2017

> download
Energy label
M4-Energielabel.pdf
06.09.2017
220 kB
> download

ErP product sheet

M3-M7ErP-ErP-Produktdatenblatt.pdf

13.02.2017

> download
ErP product sheet
M3-M7ErP-ErP-Produktdatenblatt.pdf
13.02.2017
96 kB
> download

CE Conformity

M-MO-Konformitaetserklaerung-CE-Conformity-de-en-2018-05.pdf

17.07.2018

> download
CE Conformity
M-MO-Konformitaetserklaerung-CE-Conformity-de-en-2018-05.pdf
17.07.2018
161 kB
> download

Product photo

M_BGS_frontal_Detail-HighRes.jpg

11.05.2017

> download
Product photo
M_BGS_frontal_Detail-HighRes.jpg
11.05.2017
1,0 MB
> download

Product photo

M_BGS_frontal-HighRes.jpg

11.05.2017

> download
Product photo
M_BGS_frontal-HighRes.jpg
11.05.2017
756 kB
> download

Catalogue

CLAGE-Instantaneous-water-heater-Catalogue-en.pdf

23.08.2018

> download
Catalogue
CLAGE-Instantaneous-water-heater-Catalogue-en.pdf
23.08.2018
17,7 MB
> download

Price list

Product-Price-List-PPL-en.pdf

07.05.2019

> download
Price list
Product-Price-List-PPL-en.pdf
07.05.2019
3,3 MB
> download

Datanorm

Datanorm.zip

14.05.2019

> download
Datanorm
Datanorm.zip
14.05.2019
39,7 MB
> download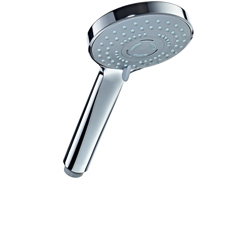 CXH (optional)
Adjustable hand shower for instant water heaters, three modes adjustable, ­anti-scale insert, chrome. Dimensions: 22.5 cm length, shower head Ø 97 mm
CXH: Part no. 0300-0086
Your advantages:
Cost-saving

Space-saving

Instantly at the right temperature

No dripping taps

Environmentally friendly