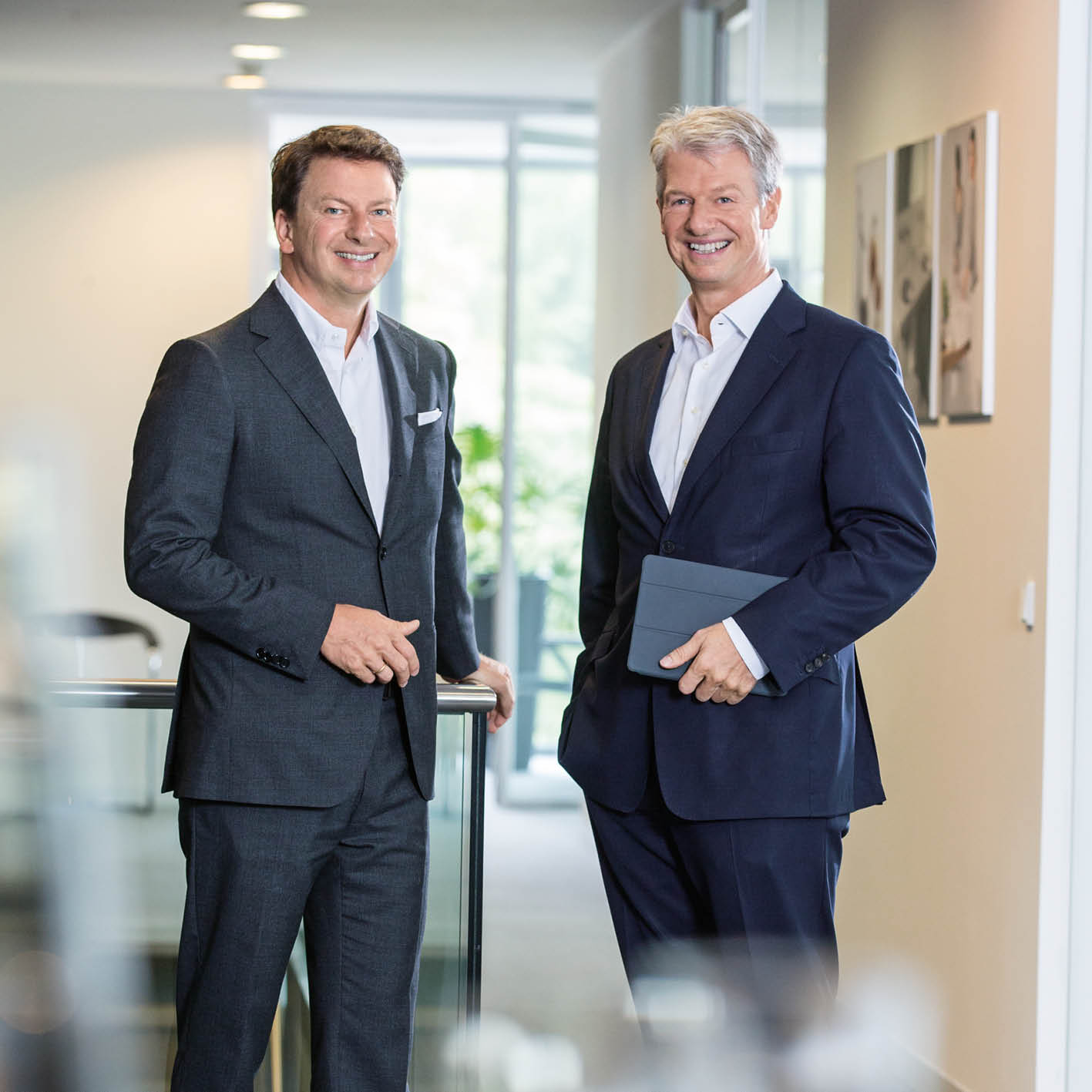 Reliability, fairness and responsible action are essential building blocks of our business success.

As a modern industrial company, we are actively committed to environmental protection and climate neutrality. We produce in Germany and act sustainably, ethically and socially.
Joachim and Jörg Gerdes
(Managing Directors CLAGE GmbH)
How do we fulfill our responsibility?
1. By
climate-neutral appliance production

according to Scope 1 and 2 (since 2021) as well as the continuous further development and achievement of climate neutrality (until 2030)

2. Through many environmental measures and

ISO environmental management certification



3. Through the

production of energy- and water-saving electric instantaneous water heaters



4. Through the

support of social projects
1. Climate-neutral equipment production

according to scope 1 and 2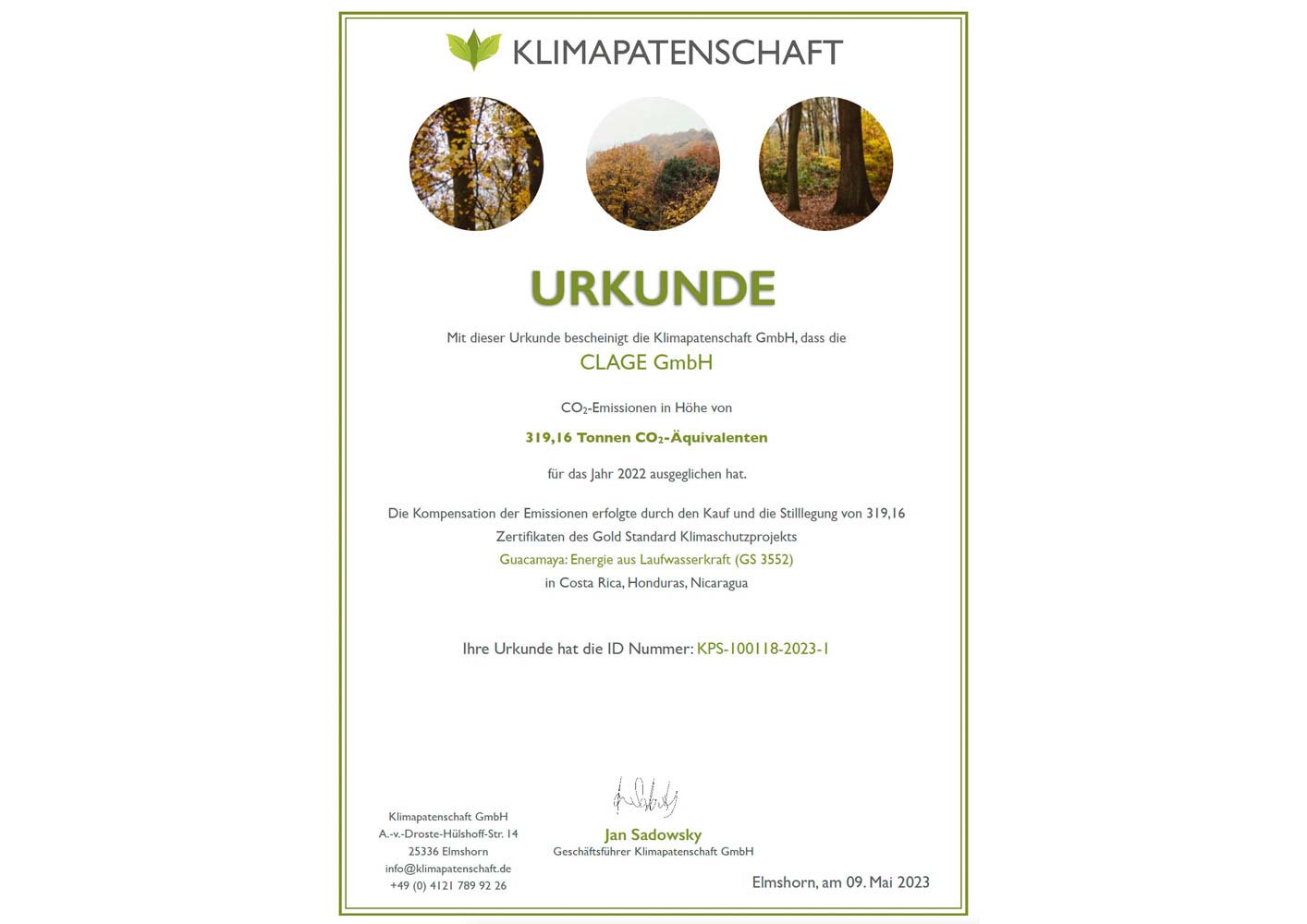 By supporting climate protection projects, we contribute to the
reduction of greenhouse gas emissions

and the preservation of biodiversity. In this way,

we completely offset

the CO₂ emissions of our corporate processes.
2. ISO environmental management certification
For CLAGE GmbH, protecting the environment is an obligation towards customers, fellow human beings and future generations. The company's environmental management is
certified

according to the high requirements of the environmental guideline

DIN EN ISO 14001:2015

.
Our employees are informed in internal quality audits about environmentally compatible behavior in the workplace. Operational processes are viewed holistically, analysed and continuously improved. Many individual measures in the daily work process contribute to protecting the environment and achieving our climate protection goals.
Many small building blocks for one big goal.
Grass paper packaging

Corrugated board with 30% grass content conserves valuable natural resources.





Pallet packaging without film

With reusable pallet rubber bands, over 67 km of plastic film are saved every year.





100% renewable electricity

The entire company, including production, is powered by green electricity.





Water system for employees

No boxes, no logistics and no plastic bottles thanks to the Zip HydroTap water system.





Environmentally friendly advertising material

For printed matter and advertising materials, attention is paid to environmentally friendly and certified alternatives.

Electromobility

Gradually, the fleet will be converted to electric or hybrid vehicles and electric forklifts.





LED lighting

Almost all conventional light sources in the company (including production) have been replaced by LED technology.



Electric screwdrivers

In production, compressed air screwdrivers are being replaced by more economical electric screwdrivers.




Energy saving mode

Many of the instantaneous water heaters are equipped with a particularly efficient energy-saving mode.




Paper saving

The high level of digitalization in the company avoids a lot of paper waste.




3. Energy- and water-saving products
Since CLAGE was founded in 1951, we have been producing water heaters that use only as much energy and water as is really needed, based on demand.
Our development department has ensured that our instantaneous water heaters have become increasingly efficient since then. The intelligent technology guarantees our customers
maximum comfort with minimum energy consumption

. Because every kilowatt hour not consumed is the best renewable energy and every litre of water saved is a step in the right direction.

In this way, our customers also help to conserve resources!
E-instantaneous water heaters

for washbasin, bathroom and kitchen
Ideally, our devices are operated with
green electricity

- and thus without fossil fuels. In this way, we make an active contribution to

environmental protection

with our electric instantaneous water heaters.
4. Support for social projects
In our home region, we are actively involved as a sponsor for various projects. For example, we regularly support equestrian sports in Luhmühlen as well as the volleyball Bundesliga team SVG Lüneburg.

In addition, together with the "Viva con Agua" association, we are working worldwide to ensure a sustainable supply of clean drinking water - especially in regions that are in urgent need of aid. With our donations, we want to improve the living conditions of people in these regions in the long term.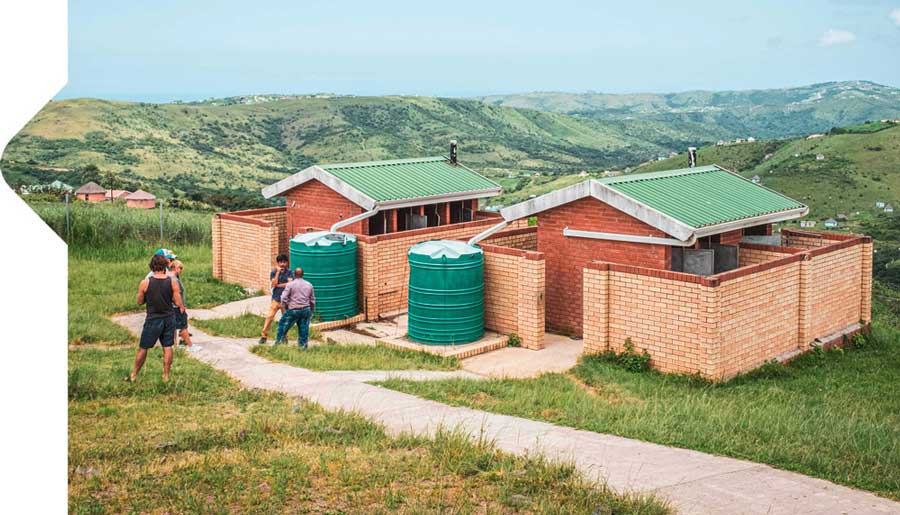 Viva con Agua
Through our donations to the "Viva con Agua" association, we have provided a school in the Eastern Cape province of South Africa with access to clean drinking water, toilets and hygiene workshops.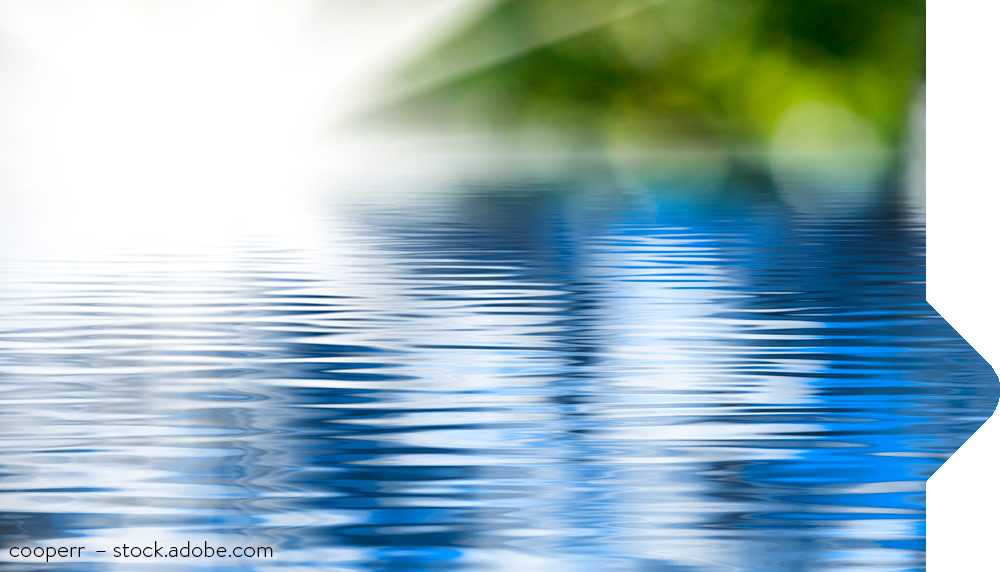 Zambia
In addition, in a second project, we are helping a school in Zambia to build a solar-powered water supply system.
And what are our further goals

for climate protection

?
We have also set ourselves high targets for the upstream and downstream stages of the value chain (Scope 3). When procuring raw materials and supplies, we already give preference to suppliers who attach great importance to environmental protection. Here, too, we want to significantly reduce CO₂ emissions over the next few years.
We want to achieve climate neutrality by 2030!