E-comfort instant water heater
DLX Next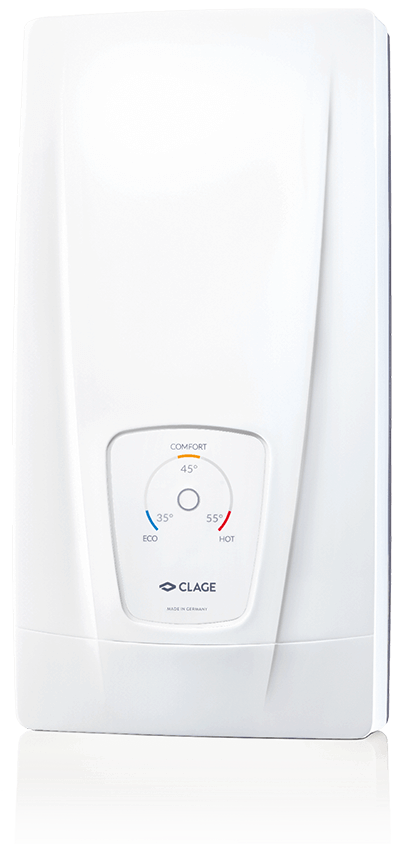 Energy efficiency class A
(scale: A+ to F)
DLX 18 Next

: 18 kW, 400 V


DLX 21 Next

: 21 kW, 400 V


DLX 24 Next

: 24 kW, 400 V

This is where the DLX Next is used.
Handwashbasin

Shower

Bath tub

Kitchen sink
Simply choose: 35, 45 oder 55 

°C

!
New product
Whenever simple operation at a reasonable price is important, the DLX Next presents an interesting alternative. The user can select one of three hot water temperatures with the touch of a button.
Electronically controlled comfort instantaneous water heater with simple operating concept

One-button control panel for quick and easy temperature selection in three stages: 35

°C

, 45

°C

and 55

°C

Temperature stable up to the capacity limit. TWIN TEMPERATURE Control TTC® ensures precise temperature control down to the degree, even with fluctuations in water pressure

Exceptionally low switch-on water flow rate from 1.5 l/min thanks to innovative water flow technology

Exceptionally air-resistant heating system thanks to new heating channel arrangement
Bare wire heating system IES® ensures a longer service life less calcification and is efficient and easy to maintain
Electronic safety system with air bubble detection, temperature and pressure shut-off
Problem-free installation thanks to free mounting space and variable connection options
Dimensions (height × width × depth): 46.8 × 23.9 × 9.6 cm
Data. Values. Facts.
| | | |
| --- | --- | --- |
| | | |
| | | |
| DLX 18 Next | DLX 21 Next | DLX 24 Next |

Part number
Nominal power rating at 400 V [kW]
Maximum operating pressure [MPa (bar)]
Water connections (thread connections)
Hot water output at Δt = 28 K 1) [l/min]
Switch-on flow rate [l/min]
Maximum flow rate 2) [l/min]
Supply voltage [3~ / PE 400 V AC] Permanent connection 3)
Nominal current at 400 V [A]
Required cable diameter [mm²]
Maximum inlet temperature [

°C

]
Protection class
Specific water resistance at 15

°C

[Ωcm] ≥
Weight filled with water [kg], approx.

| | | |
| --- | --- | --- |
| 3200-36218 | 3200-36221 | 3200-36224 |
| 18 | 21 | 24 |
| 1 (10) | 1 (10) | 1 (10) |
| G ½" | G ½" | G ½" |
| 9.2 | 10.7 | 12.3 |
| 1.5 | 1.5 | 1.5 |
| 7.0 | 8.0 | 8.0 |
| | | |
| 26 | 30 | 35 |
| 4.0 | 4.0 | 6.0 |
| 30 | 30 | 30 |
| IP 25 | IP 25 | IP 25 |
| 1100 | 1100 | 1100 |
| 4.2 | 4.2 | 4.2 |
1) Temperature increase e.g. from 12 °C to 40 °C, mixed water
2) Limited flow amount for optimal temperature increase
3) Alternatively connectable to 380 V
Media type
Title
Date
Size

Product information sheet

DLX-Next-PI-en.pdf

20.07.2023

> download
Product information sheet
DLX-Next-PI-en.pdf
20.07.2023
378 kB
> download

Operating and installation instructions

DLX-Next-Online-GMA-de-en-fr-nl-pt-es-pl-ru-cs-sk-bg-sr.pdf

17.02.2023

> download
Operating and installation instructions
DLX-Next-Online-GMA-de-en-fr-nl-pt-es-pl-ru-cs-sk-bg-sr.pdf
17.02.2023
23,8 MB
> download
Older versions

>

Operating and installation instructions
DLX-Next-Online-GMA-de-en-fr-nl-pt-es-pl-ru-cs-sk-bg-sr-08-2020.pdf> download
> download
Further versions on request

Quick guide

DLX-Next-KA-de-en.pdf

31.01.2023

> download
Quick guide
DLX-Next-KA-de-en.pdf
31.01.2023
1,7 MB
> download
Older versions

>

Quick guide
DLX-Next-KA-de-en-11-2021.pdf> download
> download
Quick guide
DLX-Next-KA-de-en-08-2020(v2).pdf> download
> download
Further versions on request

Installation accessories

DX3-Montageschablone-de-en-fr-nl-pl-cs-sk-pt-es-sv.pdf

13.11.2018

> download
Installation accessories
DX3-Montageschablone-de-en-fr-nl-pl-cs-sk-pt-es-sv.pdf
13.11.2018
370 kB
> download

Safety instructions

Sicherheitshinweise-Durchlauferhitzer-de-en-fr-nl-pt-es-pl-sv-cs-sk-bg-no-fi-ru-sr-el-it-tr-ro.pdf

19.03.2021

> download
Safety instructions
Sicherheitshinweise-Durchlauferhitzer-de-en-fr-nl-pt-es-pl-sv-cs-sk-bg-no-fi-ru-sr-el-it-tr-ro.pdf
19.03.2021
483 kB
> download

Energy label

DLX24-Next-Energielabel_2020.pdf

28.03.2023

> download
Energy label
DLX24-Next-Energielabel_2020.pdf
28.03.2023
232 kB
> download

Energy label

DLX21-Next-Energielabel_2020.pdf

28.03.2023

> download
Energy label
DLX21-Next-Energielabel_2020.pdf
28.03.2023
232 kB
> download

Energy label

DLX18-Next-Energielabel_2020.pdf

28.03.2023

> download
Energy label
DLX18-Next-Energielabel_2020.pdf
28.03.2023
232 kB
> download

ErP product sheet

DX3.1-DLX18-Next-DLX21-Next-DLX24-Next-ErP-Produktdatenblatt.pdf

27.03.2023

> download
ErP product sheet
DX3.1-DLX18-Next-DLX21-Next-DLX24-Next-ErP-Produktdatenblatt.pdf
27.03.2023
102 kB
> download

CE Conformity

CE-Konformitaetserklaerung-nach-RED+RoHS3-DX3-2021-10.pdf

05.11.2021

> download
CE Conformity
CE-Konformitaetserklaerung-nach-RED+RoHS3-DX3-2021-10.pdf
05.11.2021
1,3 MB
> download

Product photo

DLX-Next-Produktfoto.jpg

22.12.2020

> download
Product photo
DLX-Next-Produktfoto.jpg
22.12.2020
651 kB
> download

Image photo

DLX-Next-Anwendungsfoto.jpg

21.09.2020

> download
Image photo
DLX-Next-Anwendungsfoto.jpg
21.09.2020
822 kB
> download

Catalogue

CLAGE-Instantaneous-water-heater-Catalogue-en.pdf

20.06.2023

> download
Catalogue
CLAGE-Instantaneous-water-heater-Catalogue-en.pdf
20.06.2023
21,7 MB
> download

Hotnews

CLAGE_Hotnews_2023-EN-online.pdf

10.03.2023

> download
Hotnews
CLAGE_Hotnews_2023-EN-online.pdf
10.03.2023
13,9 MB
> download

Price list

CLAGE-Product-Price-List-PPL-en.pdf

10.05.2023

> download
Price list
CLAGE-Product-Price-List-PPL-en.pdf
10.05.2023
6,6 MB
> download

BIM

DLX-Next.rfa

16.06.2022

> download
BIM
DLX-Next.rfa
16.06.2022
1,4 MB
> download

BIM

DLX-Next.ifc

16.06.2022

> download
BIM
DLX-Next.ifc
16.06.2022
8,9 MB
> download

Datanorm

Datanorm.zip

05.02.2021

> download
Datanorm
Datanorm.zip
05.02.2021
17,0 MB
> download

GAEB

GAEB.zip

25.11.2020

> download
GAEB
GAEB.zip
25.11.2020
36 kB
> download
Your advantages:
Cost-saving

Instantly at the right temperature

Environmentally friendly

Short water paths