Separate heating and hot water!
Expensive gas? Become independent in your hot water supply!

Use several decentralized instantaneous water heaters, which are installed directly at the individual tapping points. The heating can be dimensioned smaller and there are no storage and distribution losses.

Alternatively, a large instantaneous water heater in the boiler room can provide the central hot water supply for your apartment or house. Individual rooms that are far away from the heating system (e.g. kitchen or guest toilet) can very often still be supplied decentrally.
And how does it work?

The heating system can be designed smaller and operated more efficiently because it runs at lower temperatures, e.g. via a heat pump.

Energy-saving electric instantaneous water heaters take over the hot water supply: they heat the water directly at the point of use at the desired temperature and quantity. This saves energy and water and is convenient at the same time!

So the buildings become independent of fossil fuels - an important step towards climate neutrality!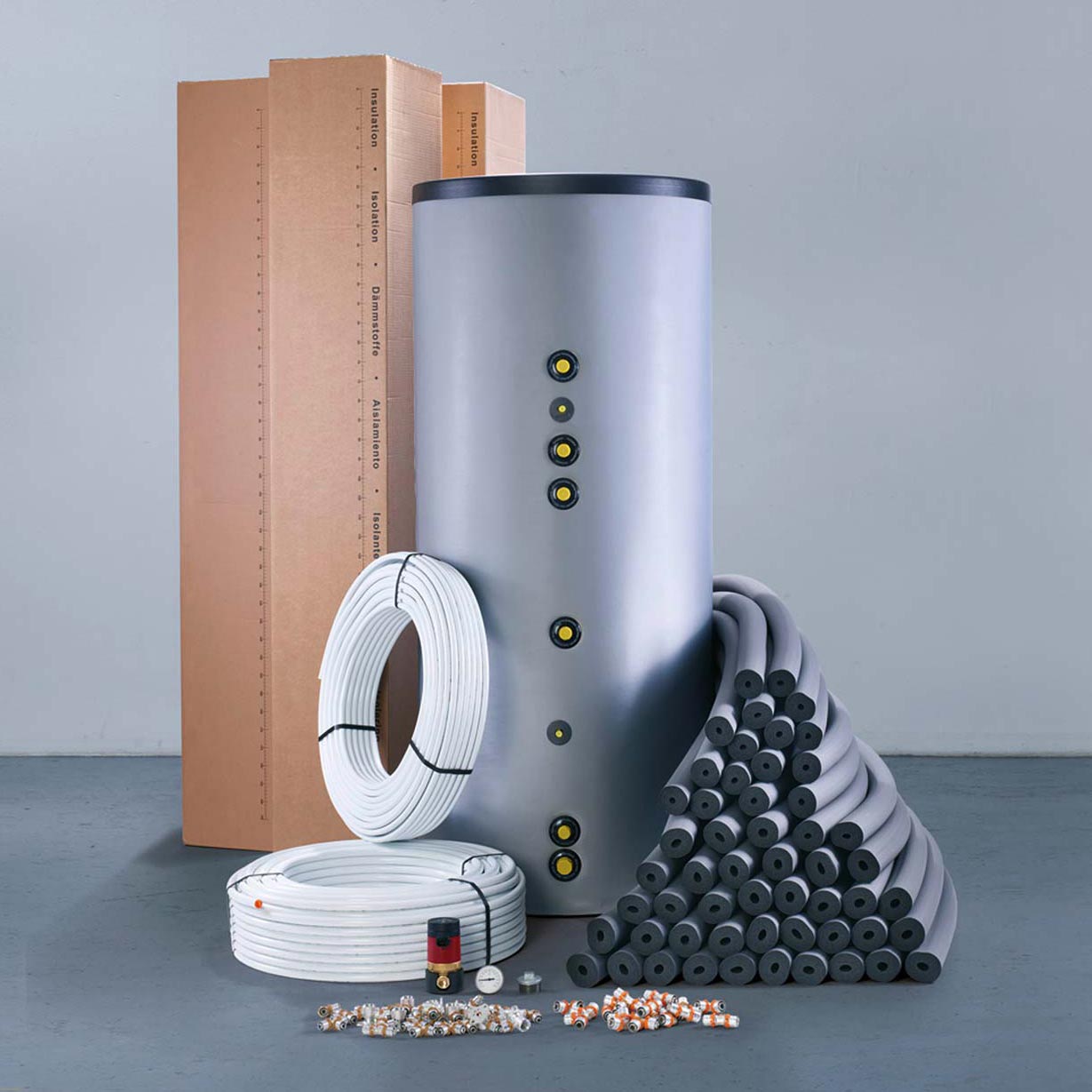 In the past:

One large, common system for heating and hot water

In the past, people used a large, central gas heating system for heating and hot water with the support of solar thermal. This required a gas connection and chimney.

Disadvantages:
> Large dimensions
> Much space required
> High investment costs
> High installation costs
> Complex installation (long hot water pipes)

It was necessary to make the boiler room larger. For the hot water supply, long water paths with circulation lines had to be run through the house and a large hot water buffer tank was needed. When solar thermal was insufficient during the winter months and transitional periods, additional gas heating had to be used. The hot water temperatures of 60 degrees were much too high for normal use and the user had to add cold water. In addition, the central heating could not be switched off in summer due to the hot water demand.
A central hot water heating system keeps large quantities of hot water on hand:
Hot water storage heaters

In the case of central hot water supply, in addition to the heating buffer tank (e.g. 200 l), a separate hot water storage tank (typically 300 l for 4 persons) is also required. These large quantities of water are kept permanently at high temperatures (usually 60°C) and cause very high standby losses in addition to the downstream distribution losses.

This is how much hot water a storage tank typically keeps on hand:
Quantity: 300 l
Temperature: 60 °C
What water temperatures and what volume of water are actually needed?
It is useful to look at the typical applications with warm water:
Washbasin

For washing hands at the hand wash basin you need only a little water in a low temperature.

This is a typical usage:
Duration: 20 s
Flow: 2 l/min
Quantity: 0.67 l
Temperature: 35 °C

Kitchen sink

At the kitchen sink, the need for hot water is manifold. Washing hands, filling a water glass, cleaning fruit and vegetables or just washing a cooking pot.

This is a typical usage:
Duration: 2 min
Flow: 5 l/min
Quantity: 10 l
Temperature: 48 °C

Shower and bath

On average, we shower for three to five minutes, even though the process usually seems much longer to us. Here, too, we quickly want our personal "feel-good" temperature: simply open the faucet, without lengthy setting and mixing.

This is a typical use, e.g. shower:
Duration: 5 min
Flow: 8 l/min
Quantity: 40 l
Temperature: 38 °C

This is a typical use, e.g. full bath:
Duration: 12 min
Flow: 10 l/min
Quantity: 120 l
Temperature: 40 °C
Heating and hot water simply do not go together!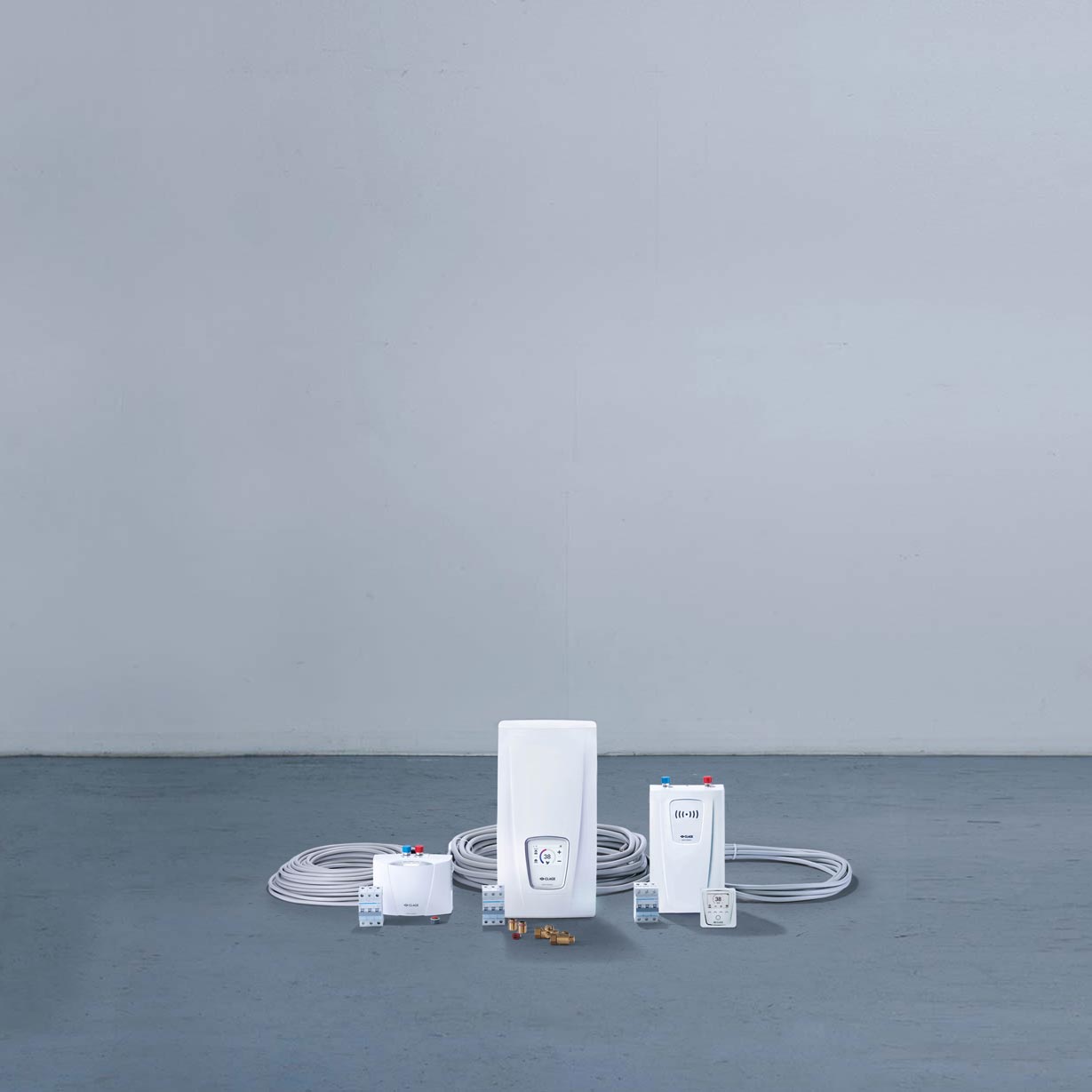 Today:

Small heating plus decentralized instantaneous water heater

Electric instantaneous water heaters are convenient, space-saving and provide instant hot water. They heat the water to the desired temperature only when needed. The storage and distribution of hot water in the house with inevitable heat losses is completely eliminated.

This is sustainable, efficient and economical!

Advantages:
> Hot water is immediately available at the desired temperature
> Hot water is available endlessly (no idling)
> Only as much water is heated as is used
> Lower investment costs
> No energy losses due to circulation, distribution and storage
> Less space required (no hot water tank needed)
> Concealed installation possible (e.g. in a closet)
> No need to install a hot water tank in the house. e.g. in a closet)
> Extensive monitoring functions
> Smart home integration: control via app or voice possible

Best with green electricity!
Our product recommendation: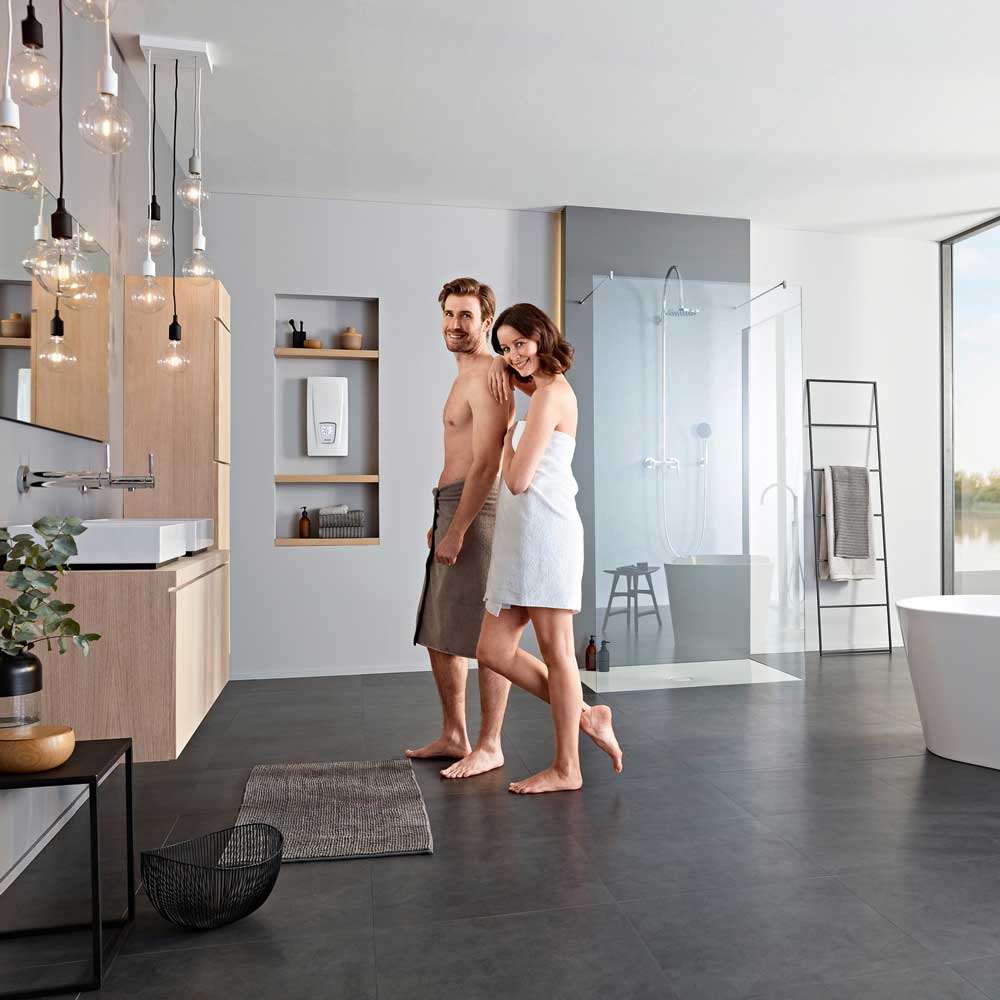 Ideal for shower and bath: E-comfort instant water heater DSX Touch
In bath and shower, you need an instant water heater with a connected load of 18 to 27 kW for perfect hot water comfort, so that 8 to 14 liters per minute of hot shower or bath water are available at all times.

The award-winning fully electronic high-tech instantaneous water heater DSX Touch is the innovative top-of-the-line device among electronic instantaneous water heaters. It combines high convenience with high energy efficiency and impresses with its innovative touch display and radio remote control. Modern top technology in an aesthetically sophisticated form. The DSX Touch, for example, received the "Red Dot Design Award" in 2019.

For more information on the savings potential of E-comfort instant water heaters, see "Product comparison storage tank vs. instant water heater"


To the E-comfort instant water heaters