Hot water storage heaters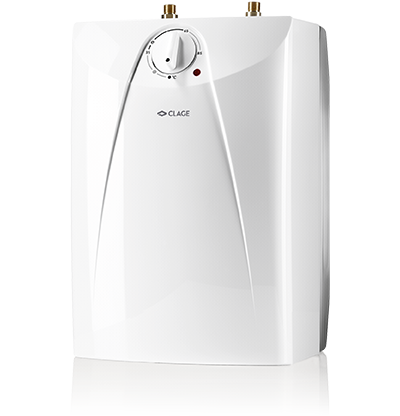 Hot water tanks serve the conventional hot water supply. They store the hot water in a thermally insulated tank and supply a limited quantity of mixed water without long waiting times.
From 5 to 120 litres.
Decentralised storage heaters provide conventional hot water supply. They store the hot water in a heat-insulated tank as close as possible to the point-of-use. They provide a limited amount of mixed water without long wait times. After dispensing the water, the storage tank automatically fills up again and heats the water to the set temperature. The size of the storage heater can be selected as required: e. g. small storage heaters are sufficient for single points-of-use (wash basins or sinks). The large wall-mounted storage heaters can centrally supply hot water for several points-of-use in an entire apartment.
Good insulation is a must!
High-quality insulation is necessary to keep heat losses during hot water storage at a minimum. Energy saver settings at the temperature control assist in limiting the energy consumption. Since storage heaters take a while to heat the water, they can be operated with comparatively low power ratings.
Your advantages at a glance:
High-quality insulation

Low heat losses

Short water lines

Installation close to tapping point

Low connected load

Versatile
How do hot water storage heaters work?
Depending on their size, hot water storage heaters can be used for centralised or decentralised hot water supply. Large wall mounted cylinders can centrally supply several tapping points throughout the entire apartment. Small storage tanks, just like instantaneous water heaters, are installed directly at the tap.

In contrast to instantaneous water heaters (small, compact or comfort), hot water tanks store the respective quantity of water and heat it continuously to ensure the appropriate hygiene and to supply the appropriate water temperature when the water is drawn off. Since the water temperature in storage tanks must be set accordingly high, it is usually necessary to add cold water in order to achieve the desired outlet temperature.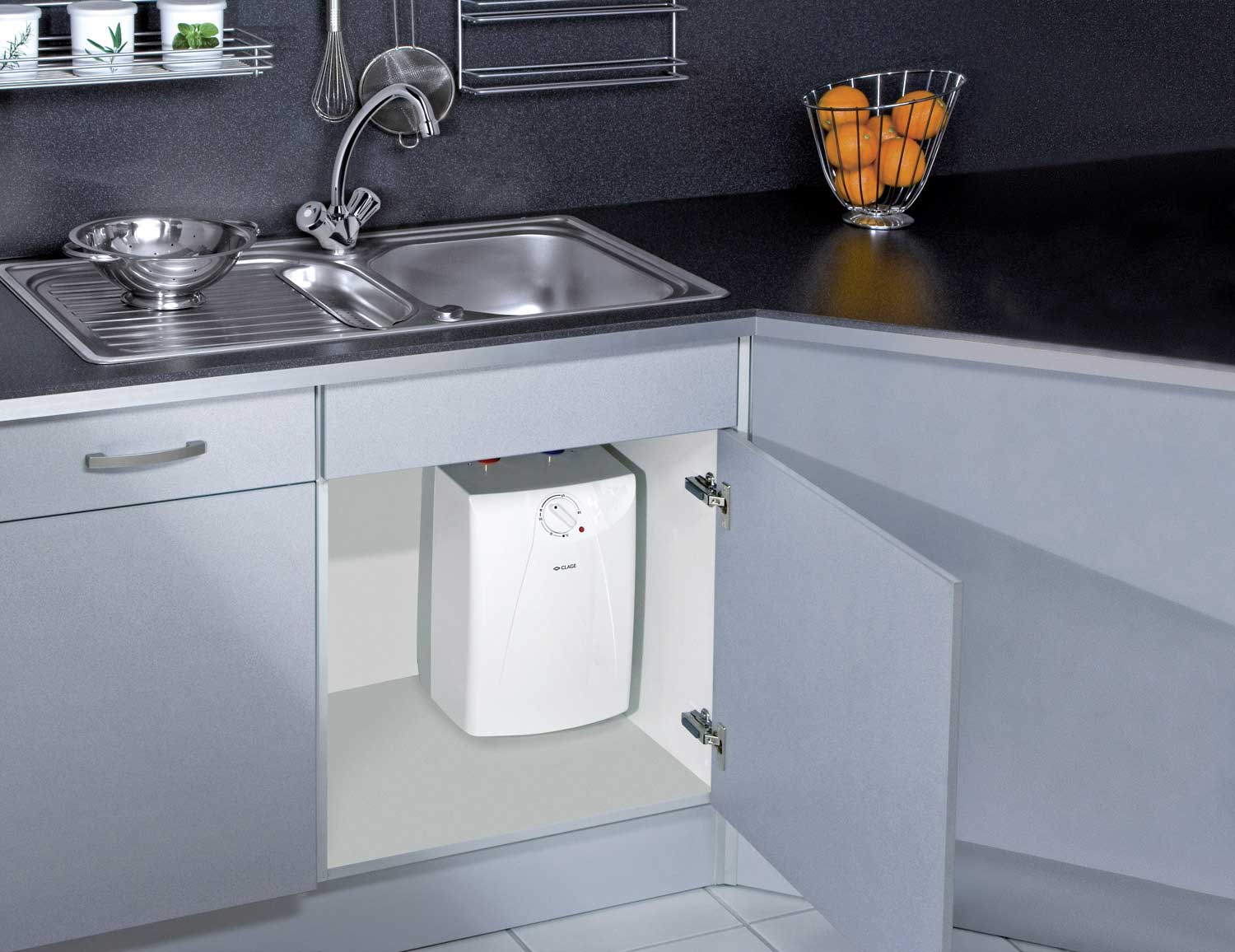 All products at a glance:
Hot water tanks: You should know that!
Good insulation is an important criterion when it comes to buying a boiler. High-quality insulation is necessary to keep heat losses during the storage of warm water as low as possible. Energy-saving settings on the temperature controller also help to limit energy consumption. As hot water storage tanks require time for heating, they are operated with comparatively low connected loads.
The advantages of CLAGE hot water storage heaters:
> High-quality insulation
> Short cable runs
> Low connected load
What should you look out for when buying storage water heaters?
Important questions before buying a storage water heater:
> Which tapping points are to be supplied?
> How many points of use should be supplied?
> Which power supply is available?
> Should the device be pressure-resistant or depressurized?> Which type of installation would you like:
Over-sink, under-sink or wall-mounted?
If you decide on a storage tank for the central hot water supply, you must take the pipe routes into account. In some cases, the decentralised hot water supply through an instantaneous water heater can be an energy efficient alternative to have hot water immediately at the point of use and to avoid energy consumption by storing hot water. In contrast to hot water storage tanks, instantaneous water heaters do not consume any stand-by energy and can provide unlimited hot water.
Hot water tanks from CLAGE.
We offer over-sink and under-sink hot water storage heaters as well as wall-mounted storage heaters. The smaller sizes are supplied ready to plug in and are immediately ready for use. The device designations "O" or "U" stand for the corresponding over-sink or under-sink mounting.

Small storage heaters are usually used at individual tapping points, e.g. in bathrooms, kitchens and household rooms. Our SX series of wall-mounted storage heaters is available in 50, 80, 100 and 120 litre sizes. They have a fixed connection and a key control panel with heat content display as well as a quick heat-up key. Large wall mounted cylinders can also supply several taps.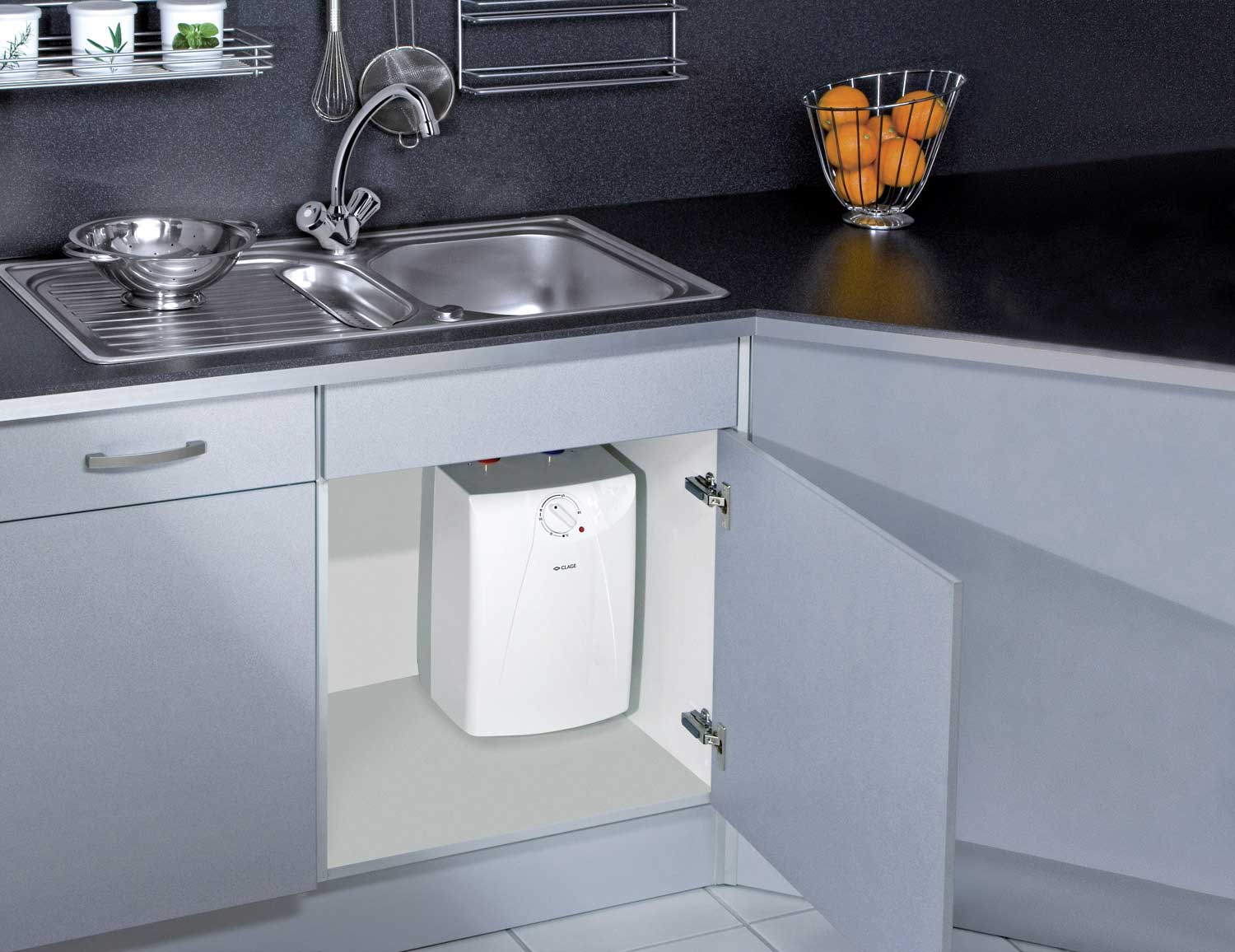 First-class advice from CLAGE.
On the individual product pages and in our Media Centre you can inform yourself in advance and receive further information, such as technical data and dimensions.

With our Online Product Advice we guide you step by step to the right hot water storage heater. Try it out!
If you have any further questions, please do not hesitate to contact our competent staff. They will answer all your questions and help you find the right device for your application needs.