Current trade fair dates
RIFA

The Richter+Frenzel trade fair

19.10.2023 until 20.10.2023

Booth 1-610
Messe Nürnberg

Architect@Work Stuttgart

architect meets innovations

25.10.2023 until 26.10.2023

Düsseldorf
Booth number 150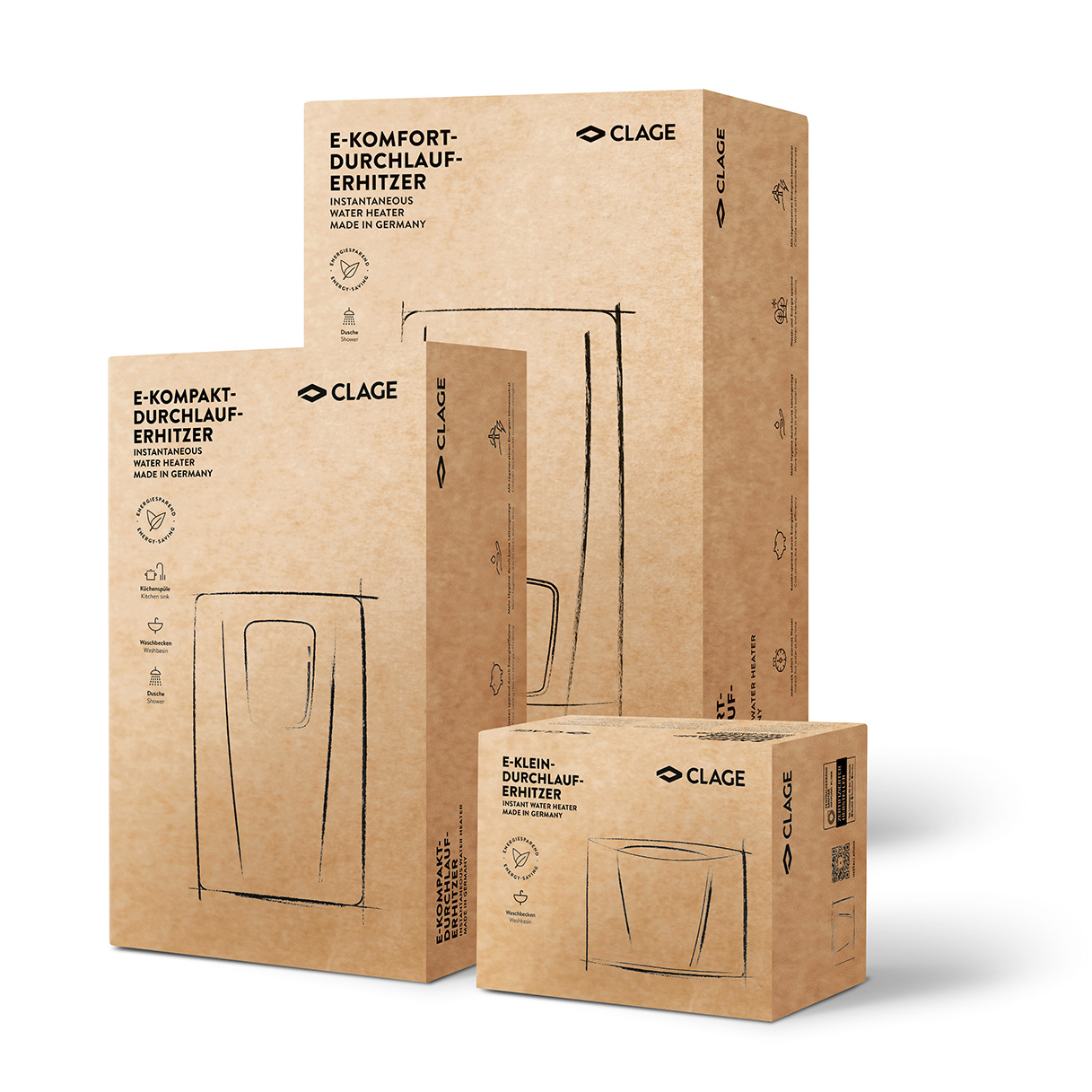 Environmentally friendly packaging
30. Mai 2023
In order to reduce the ecological footprint, we are changing the packaging of the energy-saving instantaneous water heaters this year. Whereas previously the cartons were provided with an additional, multi-colour printed offset lamination, they are now printed directly using the single-colour flexographic printing process. CLAGE is thus setting an example for the entire industry.
The decision for the new packaging concept is the logical consequence of CLAGE's commitment to sustainability and climate protection. In concrete terms, this means: Thanks to the new packaging concept, we use 240 kg less ink per year than before. Flexo printing requires about 35% less energy to produce the cartons. By printing the cartons directly, we save about 30 tonnes of offset paper per year. These large quantities of paper no longer have to be delivered. This reduces road traffic and means about 652 kg less CO2 emissions per year.
Despite the change in printing technology, the cartons remain visually appealing and durable, so that the products inside are well protected during transport and storage. The cartons are now consistently labelled in two languages, German and English. A QR code refers to installation videos for the unit. Certification logos are also displayed.
CLAGE at the ISH 2023 · 17. März 2023
After a four-year break due to the pandemic, the international sanitary, heating and air-conditioning industry finally met again for intensive networking at the ISH in Frankfurt am Main from 13 to 17 March 2023. More than 150,000 visitors from 154 countries came to find out about innovative future technologies. Trend topics such as climate protection and security of supply were present everywhere. CLAGE impressed the trade public in Hall 12.1 on more than 200 square metres with many application-related hot-water installations. A particular visitor magnet was the fountain in the centre of the stand. The large LED wall with the friendly drop of water was also very well received by the visitors. CLAGE's clear recommendation to the industry: separate heating and hot water! In new buildings and renovations, modern heating systems should be combined with decentrally installed electric instantaneous water heaters. The hot water is then provided just-in-time, directly at the desired temperature. In this way, energy losses are consistently avoided and independence from oil and gas can be achieved. The visitors were able to study how this can be implemented in practice using a 3D house model made of Plexiglas. On the accompanying iPad, various heating and water systems in the house could be faded in and out, and concrete devices were suggested when zooming in on the rooms. You can visit the virtual house model here. So much practical relevance enthused the visitors and ensured many good conversations. For CLAGE, ISH 2023 was a complete success!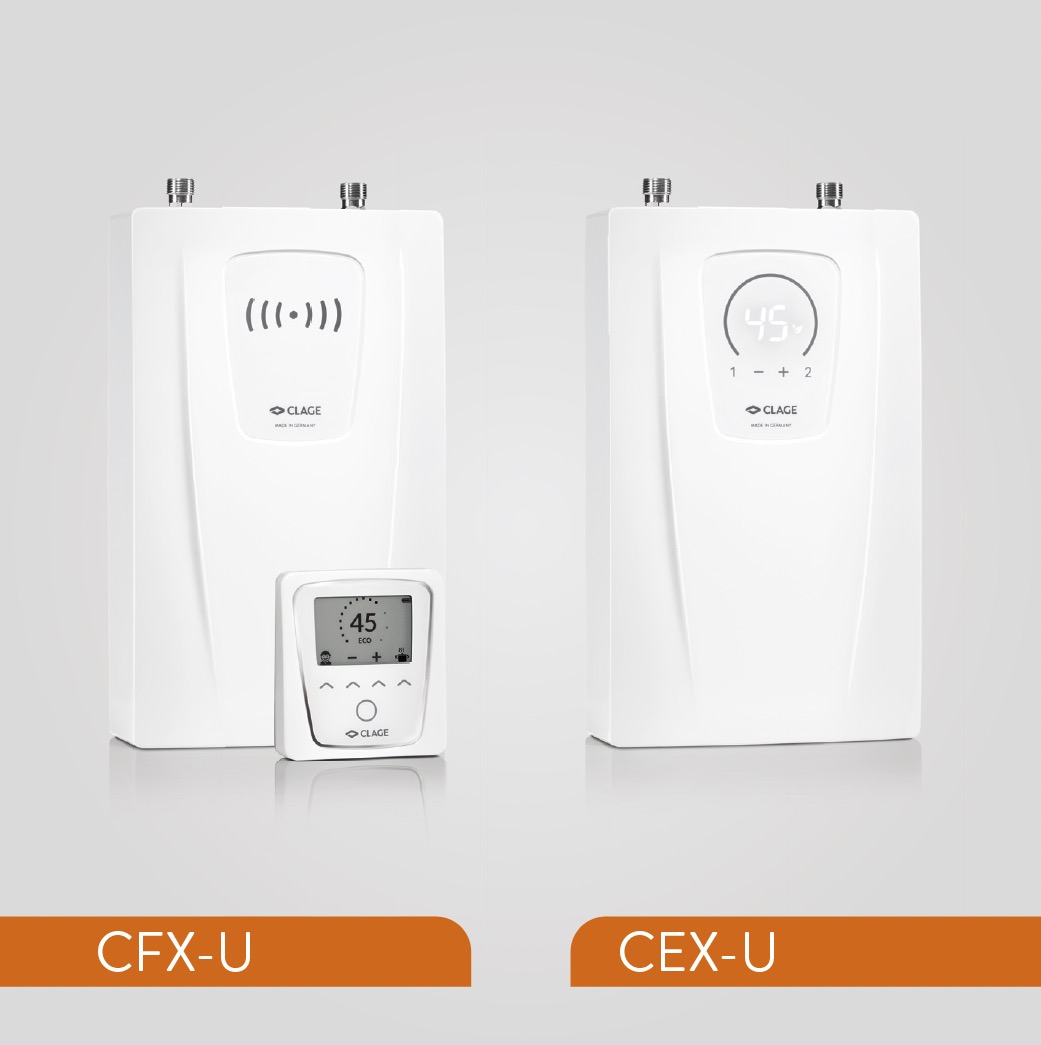 New design for compact instant water heaters
05. Januar 2022
The compact electric instantaneous water heaters of the C-series from CLAGE provide a fast and efficient hot water supply in the kitchen. From 2022, they will now appear with a new design. The »CFX-U« comes with a new Bluetooth remote control with e-paper display, high-quality real glass cover and modern sensor buttons.

The temperature of the »CEX« and »CEX-U« models can now be read on a large LED display. The temperature is set directly on the unit via the new sensor buttons. This has once again significantly improved user-friendliness and the new units now also match the other two instantaneous water heater series from CLAGE perfectly in terms of appearance.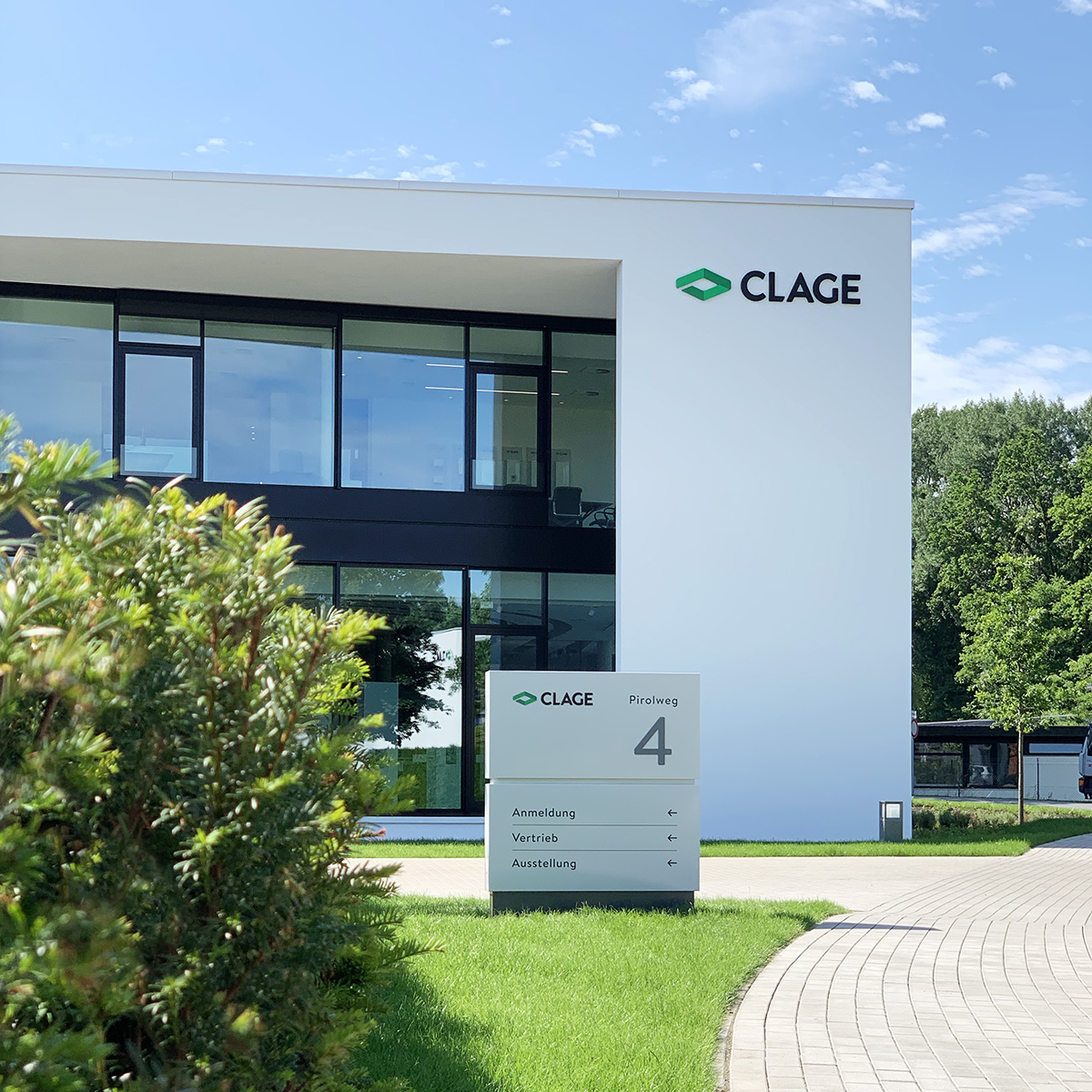 CLAGE expands its headquarters
15. Juli 2021
Our new distribution centre is ready! The spacious offices meet the highest standards of environmentally conscious work and offer short communication channels. All rooms are designed for the latest digital work processes. The sales, export and advertising departments have already moved in and are happy about the beautiful light-flooded workplaces. The new seminar rooms are also already being used diligently. External visitors particularly like the hot water world on the ground floor. There, CLAGE units are shown in various real installation situations. Monitors show consumption graphs and illustrate the savings potential. The Clageteria on the ground floor is also a special highlight. Here, our catering team spoils all employees and guests with freshly cooked food every day. Due to the move, our telephone numbers and official company address have also changed. The new address is: CLAGE GmbH, Pirolweg 4, 21337 Lüneburg, Germany, phone: +49 4131 8901-888.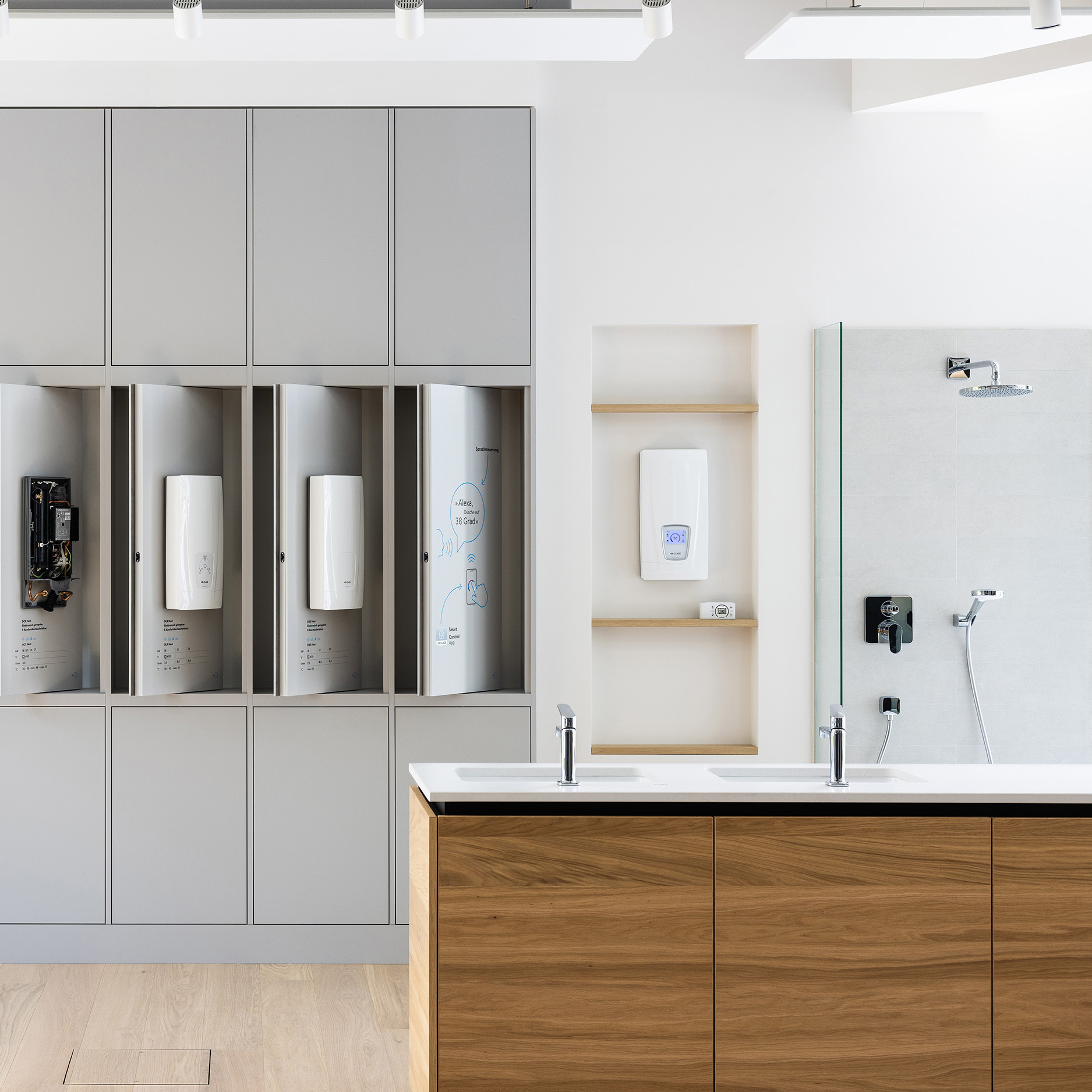 Invitation to the CLAGE Hot Water Tour
07. März 2022
Visit our innovative exhibition in the new CLAGE distribution centre! On display are various types of instantaneous electric water heaters in typical installation situations. For this purpose, kitchen units, washbasins and different bathroom and shower situations have been cleverly integrated into the exhibition space. In this way, visitors learn about various application examples and can see how well the devices can be integrated into the installation environments, how smartly they are controlled and how much energy can be saved.
In addition to the instantaneous water heaters, the modern Zip water systems are a focal point in the exhibition. The individual appliance variants have been installed in various kitchen units so that all the details can be viewed directly in the installation environment.

Opening hours: Monday to Thursday 9 a.m. to 5 p.m. and Friday 9 a.m. to 3 p.m.
Address: Pirolweg 4, 21337 Lüneburg, Germany
You are also welcome to make an appointment for a consultation by phone: 04131 89 01-0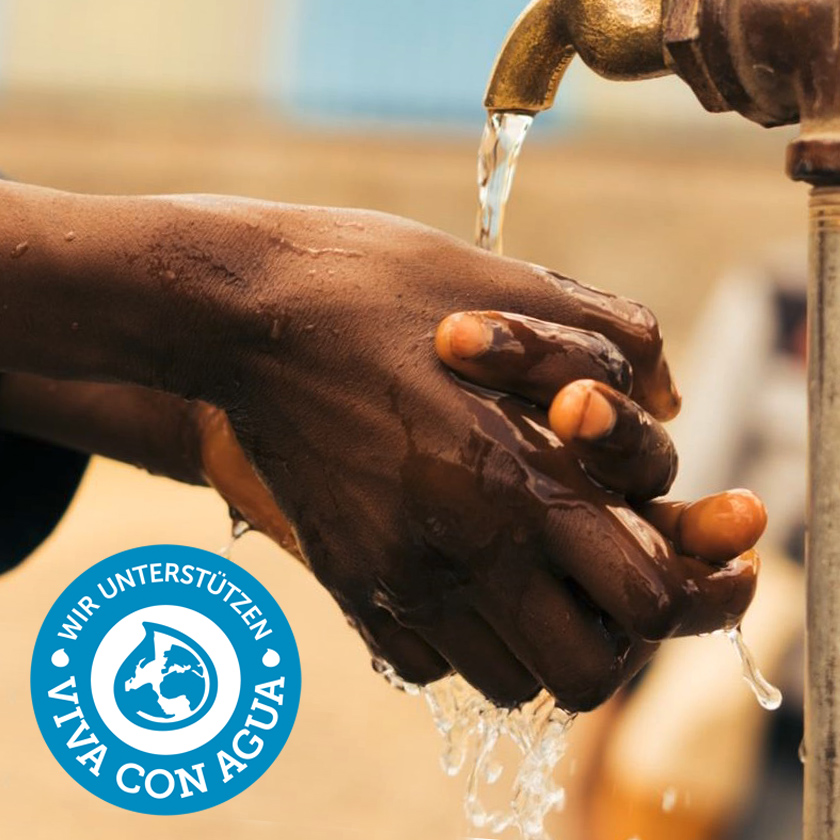 We support »Viva con Agua«
14. Dezember 2021
Instead of the usual customer/ Christmas gift campaign, CLAGE is once again donating to the association "Viva con Agua" this year. We want to help where clean water is urgently needed. Especially in public schools in southern Africa, the supply of water, sanitation and hygiene facilities is not yet available everywhere. The Corona pandemic has made the situation even worse. That is why we are supporting the construction of water supply points and toilet blocks in a school in the Eastern Cape province of South Africa.

In addition, we are helping a school in Zambia to build a solar-powered water supply system in a second project. We are pleased that with our donation we can provide children in both regions with access to clean water.