Tap for Zip HydroTap BCS:
AIO All-In-One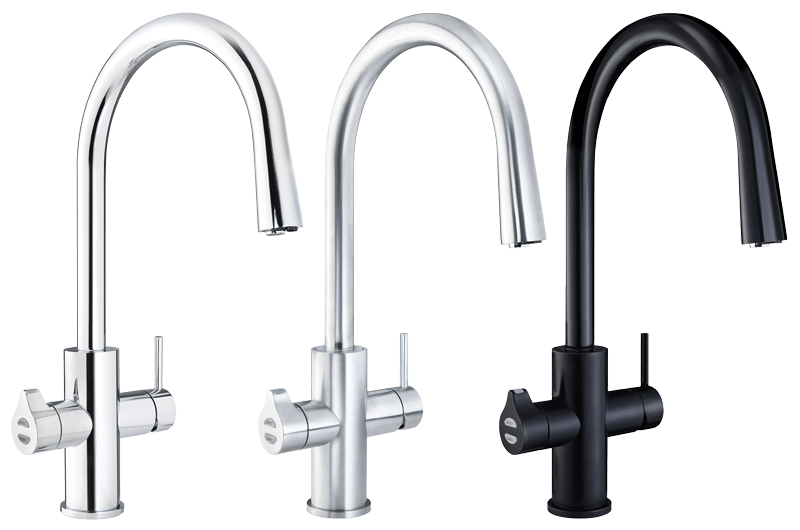 Celsius Arc AIO


Polished chrome

Celsius Arc AIO


Brushed chrome

Celsius Arc AIO


Matte black
This is where the AIO is used.
Boiling water

Chilled still water

Chilled sparkling water

Normal tap water
Everything from one tap.
The new AIO "All-In-One" fitting is a real eye-catcher on every kitchen sink!

In addition to the water provided by the Zip HydroTap BCS under-table unit (boiling, chilled or carbonated), you can use this tap to draw normal tap water through the side lever. So no additional tap for tap water is necessary. Everything from one fitting!

The modern design fits perfectly to all kitchen styles and combines aesthetics with versatile functionality. It is available in various high-quality finishes.
Electronic all-round fitting with sensor key operation, especially for Zip HydroTap BCS

Two withdrawal options: a lateral control knob

for boiling, chilled or carbonated water

and a single-lever mixer

for the extraction of normal tap water (from the central or decentralised hot water supply)
With illuminated function displays, scald protection and holding function for convenient can filling
Ø 50 mm hole drilling required
Dimensions: rotatable pipe outlet 22 cm, height 44 cm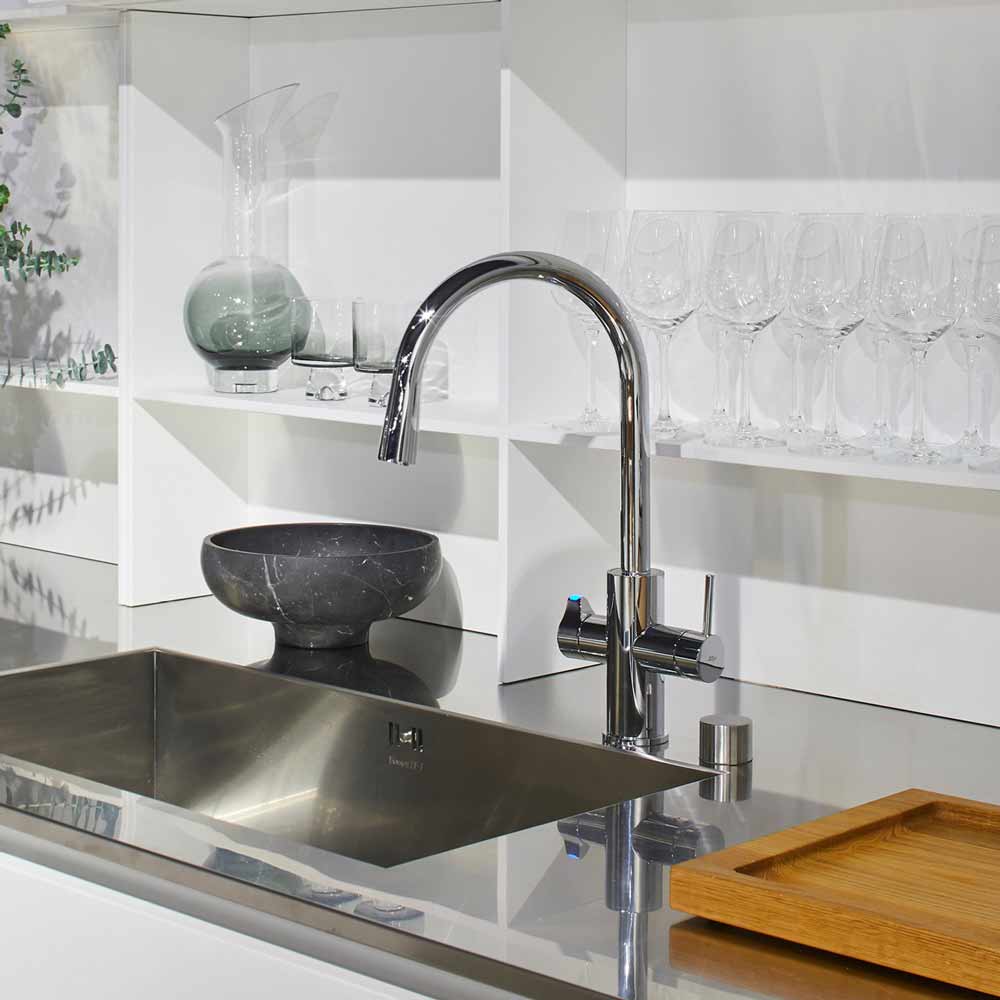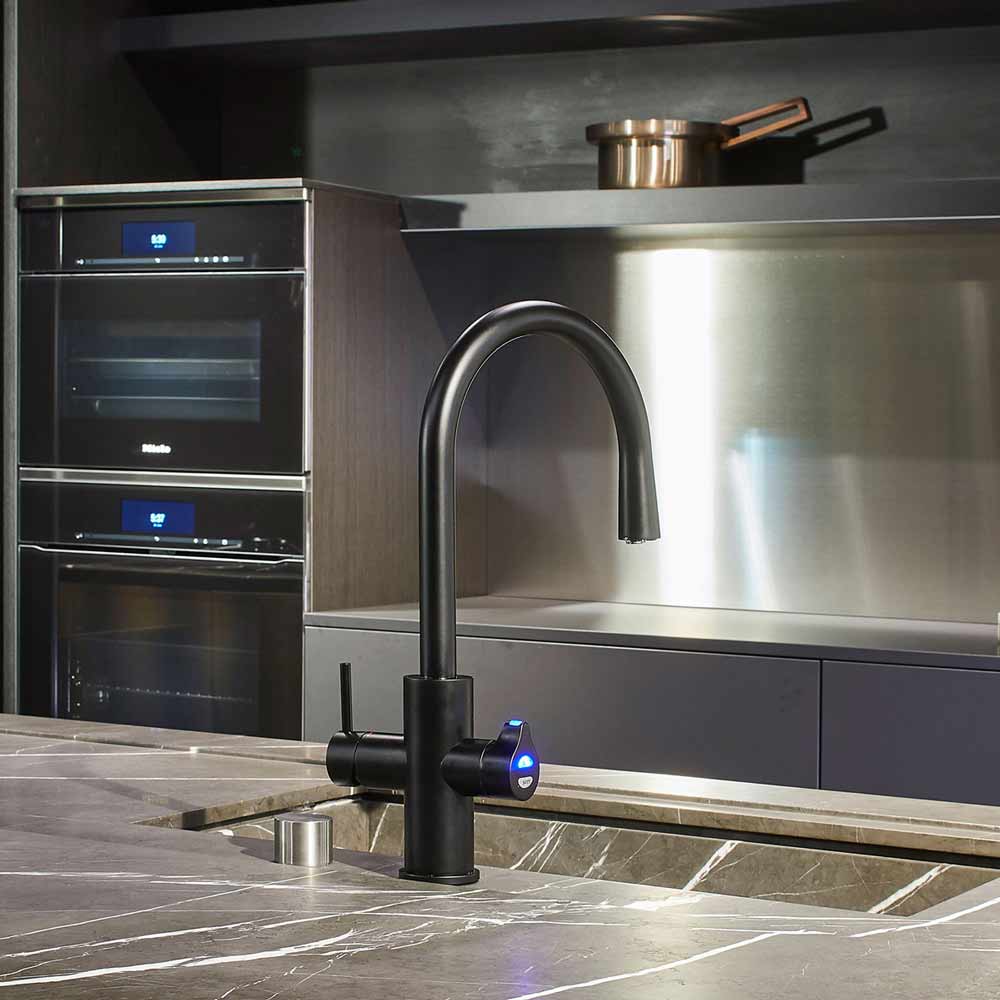 Data. Values. Facts.
| | | |
| --- | --- | --- |
| | | |
| | | |
| Celsius Arc AIO | Celsius Arc AIO | Celsius Arc AIO |

Part number
Polished chrome
Brushed chrome
Matte black
Lateral control knob
Additional lever for normal tap water
Illuminated function displays
Scalding protection
Holding function, e.g. for filling pots
Rotatable pipe outlet
Hole drilling Ø [mm]

| | | |
| --- | --- | --- |
| 4100-44524 | 4100-44525 | 4100-44526 |
| | | |
| | | |
| | | |
| | | |
| | | |
| | | |
| | | |
| | | |
| | | |
| 50 | 50 | 50 |
Media type
Title
Date
Size

Product information sheet

Zip-Celsius-Arc-AIO-PI-en.pdf

09.10.2020

> download
Product information sheet
Zip-Celsius-Arc-AIO-PI-en.pdf
09.10.2020
384 kB
> download

Product photo

AIO-verchromt-gebuerstet.jpg

27.08.2020

> download
Product photo
AIO-verchromt-gebuerstet.jpg
27.08.2020
78 kB
> download

Product photo

AIO-verchromt-glaenzend.jpg

27.08.2020

> download
Product photo
AIO-verchromt-glaenzend.jpg
27.08.2020
83 kB
> download

Product photo

AIO-schwarz-matt.jpg

27.08.2020

> download
Product photo
AIO-schwarz-matt.jpg
27.08.2020
101 kB
> download

Product photo

AIO-Produktfoto.jpg

28.09.2020

> download
Product photo
AIO-Produktfoto.jpg
28.09.2020
160 kB
> download

Hotnews

CLAGE_Hotnews_2023-EN-online.pdf

10.03.2023

> download
Hotnews
CLAGE_Hotnews_2023-EN-online.pdf
10.03.2023
13,9 MB
> download

Price list

CLAGE-Product-Price-List-PPL-en.pdf

10.05.2023

> download
Price list
CLAGE-Product-Price-List-PPL-en.pdf
10.05.2023
6,6 MB
> download

Datanorm

Datanorm.zip

05.02.2021

> download
Datanorm
Datanorm.zip
05.02.2021
17,0 MB
> download

GAEB

GAEB.zip

25.11.2020

> download
GAEB
GAEB.zip
25.11.2020
36 kB
> download