The new building energy law (GEG) promotes instantaneous water heaters!
The trend is towards instantaneous water heaters in new buildings and refurbishments!
Current requirements of the Building Energy Act (GEG) and eligibility for funding according to the Federal Promotion of Efficient Buildings (BEG)
The heating requirements of existing buildings in Germany are falling steadily as a result of energy-efficient new construction and energy refurbishment. This is why it makes sense to separate heating and hot water. Electric instantaneous water heaters heat the water directly at the point of use at the desired temperature and quantity. This saves energy and water and is convenient at the same time! The heating runs separately at lower temperatures, e.g. via a heat pump. This makes the buildings independent of fossil fuels - an important step towards climate neutrality.


Requirements of the Building Energy Act (GEG)
With the new GEG, modern electric instantaneous water heaters can be integrated well into the overall concept. The background to this is the new reference to the updated DIN V 18599 standard, which better reflects instantaneous water heaters. Other hot water requirements are taken into account and additional efficiency factors are taken into account. The primary energy requirements of the GEG can be easily met in new buildings, for example, with an air-to-water heat pump and a decentralised hot water supply via an electric instantaneous water heater. In addition, there are advantages in operation: By separating heating and hot water supply, the heating system can be designed smaller and work very efficiently, as only low temperatures are required for the underfloor heating alone. The hot water supply takes place almost without losses and offers a high level of comfort! Furthermore, combinations with modern direct electric heating systems can of course also be implemented.
Promotion: Efficiency house level for new construction and refurbishment
The subsidies for the construction of an efficiency house are currently being revised. Overall measures as part of a refurbishment continue to be particularly lucrative. Within the federal funding for efficient buildings (BEG), electric instantaneous water heaters are part of the building concept of an efficiency house. In combination with renewable energies such as a heat pump or a photovoltaic system, eligible standards and also the Efficiency House EE levels can be achieved. To achieve the EE level, 55 of the heat demand must be covered by renewable energies, so that additional 5 subsidies can be applied for in the renovation.

A combination of systems to achieve the "Effizienzhaus 40" standard is, for example, an air-to-water heat pump for heating, one (or more) electric instantaneous water heater(s) for hot water, and a ventilation system with heat recovery. At best, this combination of systems is supplemented by the building's own power supply via a photovoltaic system with battery storage. In some German states, a photovoltaic system is already mandatory. These electricity-based system concepts are the model of the future.

If, within the scope of a renovation, measures are carried out on the building envelope, such as window replacement or insulation, together with the renewal of the heating technology, up to 30 subsidies can be applied for. In addition, an interest subsidy is granted that is 15% more favorable than the interest rate of the house bank.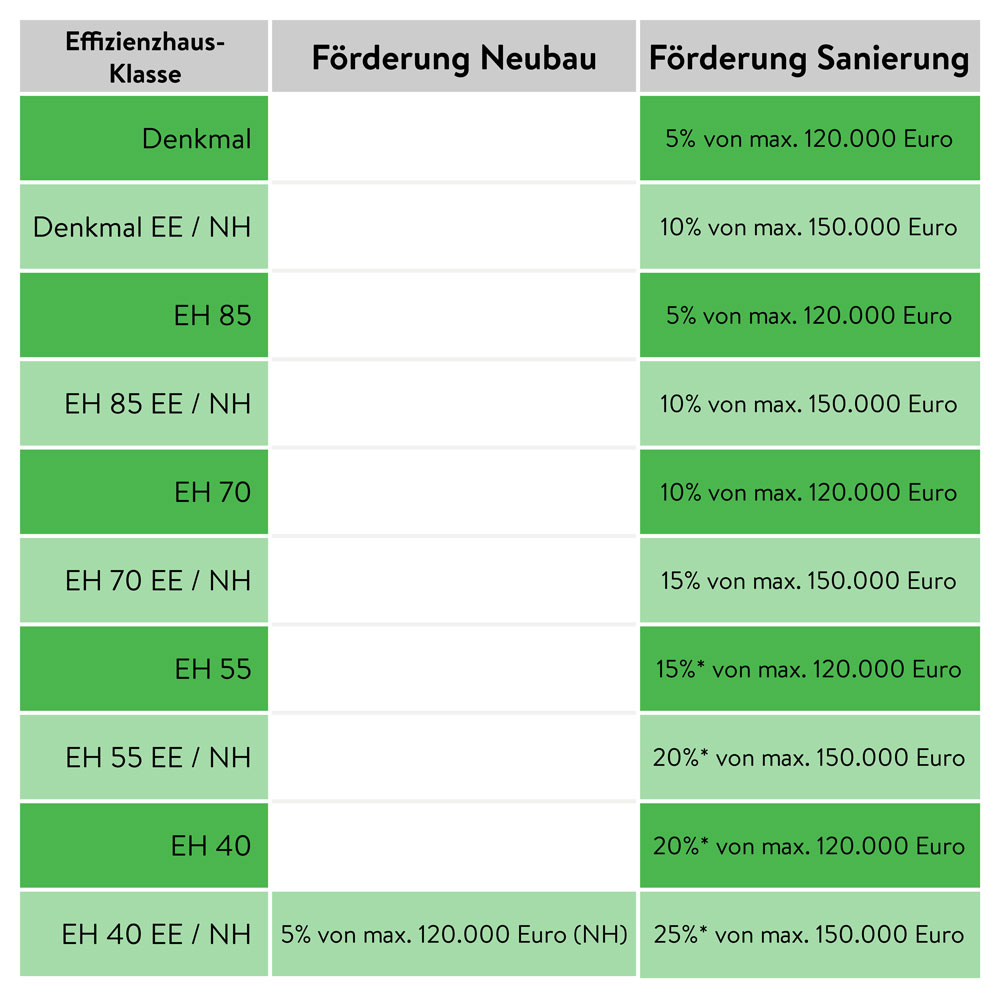 Grants for an efficiency house
Figure:
Tilgation or investment cost subsidies for an efficiency house.

* Worst Performing Building: 5% bonus is granted if the building to be refurbished is one of the 25% worst performing buildings in terms of energy efficiency.

Source:
KfW 2022. FEDERAL FUNDING FOR EFFICIENT BUILDINGS. Residential Buildings - Loan. Energy-efficient construction and renovation of houses and flats (as of 09-2022) Link.
Electronically controlled instantaneous water heaters are eligible!
Electronically controlled instantaneous water heaters are also explicitly eligible within the individual measures. Individual measures relate to refurbishment, such as the replacement of the heating system or measures to optimise the heating system. If an old gas heating system is replaced by a heat pump and the hot water supply is converted to electronically controlled instantaneous water heaters, for example, a 35% subsid y is available. If the existing heatingsystem is operated with oil as the energy source, there is even a 45% subsidy.

If the heating system is optimised with hydraulic balancing and a modern instantaneous water heater is installed, a 20% subsidy can be applied for .

Link to eligible measures: BEG info sheet "Eligible costs.pdf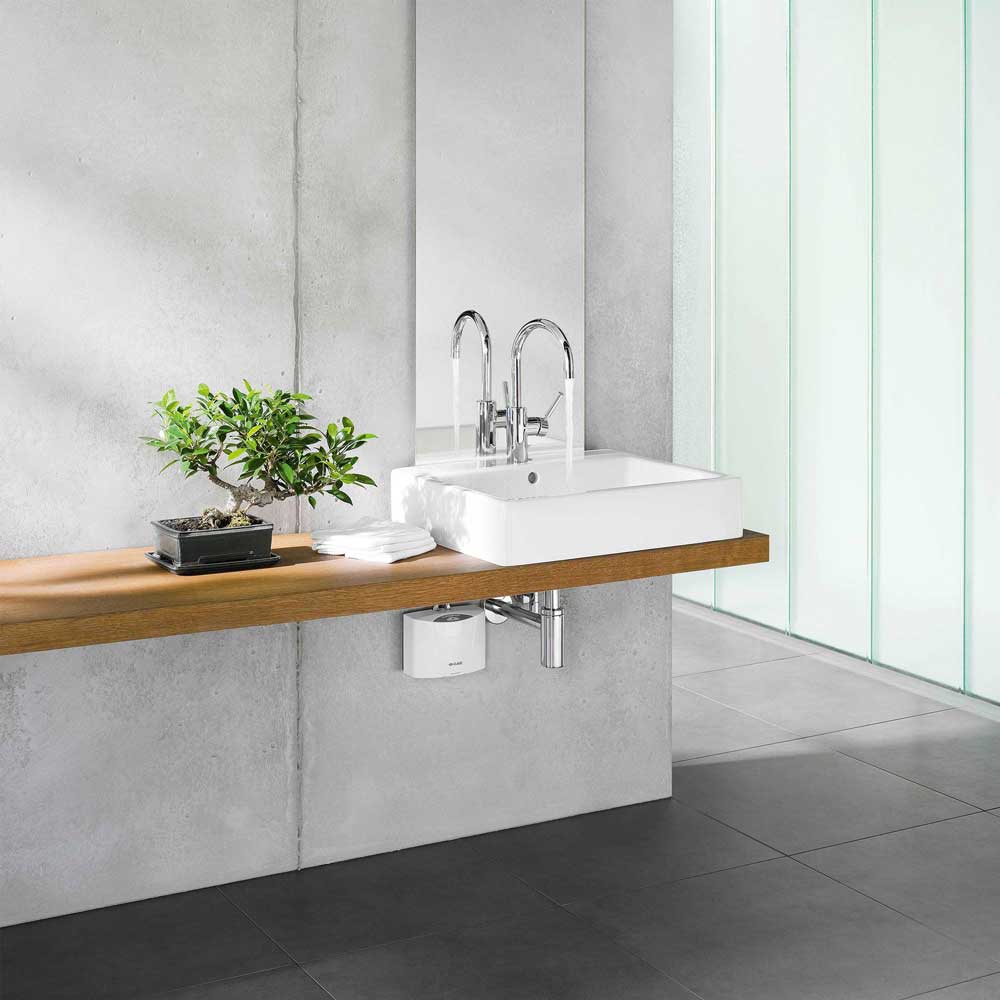 Ideal at the wash basin: MCX
small instantaneous water heater At the wash basin (e.g. in the guest toilet), a small instantaneous water heater with an electrical connected load of 3.5 to 6.5 kW is sufficient. It supplies two to four litres of hot water per minute for washing hands.

The world-renowned "iF product design award" has been the hallmark of appreciation for good design since 1953. In 2012, the MCX small instantaneous water heater received an award for its convincing concept and striking design, and further awards and positive assessments followed.

Compared to small storage heaters, the MCX electric small instantaneous water heater can save up to 85 nergy. For more information, see "Product comparison: storage tank vs. instantaneous water heater".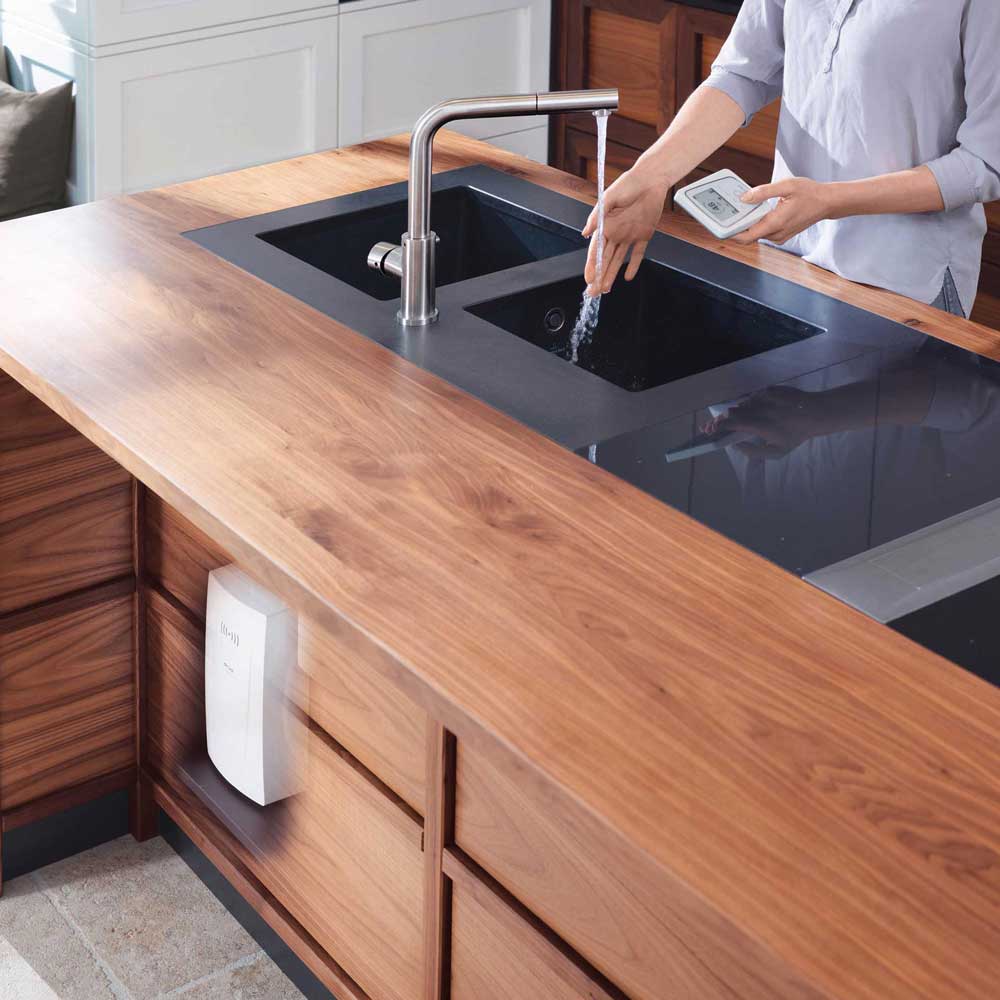 Perfect for the kitchen sink: CFX-U compact instantaneous water heater
A compact under-sink instantaneous water heater (11 to 13.5 kW) is the efficient solution for the kitchen sink, as it requires four to six litres of hot rinsing water per minute.

The CFX-U and CEX-U compact instantaneous water heaters were awarded the "Plus X Award" in 2022 for "High Quality, Design, Ease of Use and Ecology". According to the awarding body, this seal is the "world's largest innovation award for technology, sport and lifestyle".

The temperature can be conveniently adjusted with the Bluetooth remote control (CFX-U) or the sensor key control panel (CEX-U). In addition, the long service life of the appliance, its ease of maintenance and also the consumption values for electricity and water displayed by the remote control contribute to the ecology of the instantaneous water heater.

The CFX-U compact electric instantaneous water heater can save up to 40% energy compared to small storage heaters. Further information can be found under " Product comparison storage vs. instantaneous water heater ".