Sensor taps
AEB, AEB-C, AEN, AEN-C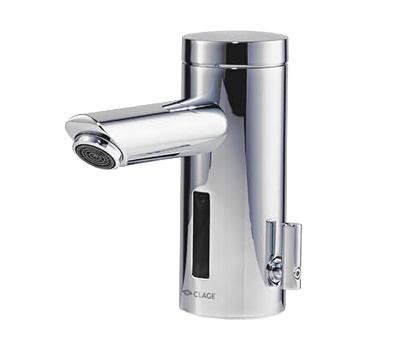 AEB


Battery powered, open-outlet

AEB-C


Battery powered, closed-outlet

AEN


Mains powered, open-outlet

AEN-C


Mains powered, closed-outlet
Application areas:
Handwashbasin

Public washroom facilities
Hygienic, energy efficient hand washing.
Sensor taps for hygienic, energy efficient hand washing. An infrared touch-free sensor (automatic setting) at the tap turns the water on and off.
Mixing device for continuous temperature regulation

Open-outlet construction

for pressureless instant water heaters: AEB and AEN

Closed-outlet construction

for pressure resistant instant water heaters: AEB-C and AEN-C
AEN/AEB: Modular monoblock without base
Temporary-off for cleaning and continuous-on for filling select­able

Activatable hygienic rinse

: automatic rinse every 12, 24 or 48 hours
Models with

battery

(6 Volt Lithium CRP 2 ): AEB, AEB-C
Models with

mains power supply

(1~ / N / PE 230 V AC / 6 V DC): AEN, AEN-C
Flexible connecting hose ⅜ inch × 35 cm to the angle valve and ⅜ inch × 50 cm to the appliance
Without pop-up waste
Data. Values. Facts.
Part number
Type: vented
Type: unvented
Maximum operating pressure [bar]
Water connections (thread connections)
Energy supply battery [6 Volt Lithium CRP 2]
Voltage power supply unit [1~ / N / PE 230 V AC / 6 V DC]
Flow rate [l/min], approx.
Water follow-up time (adjustable) [s]
Continuous rub-in time (adjustable) [min]
For mini instant water heaters
Spout [cm]
Dimensions (height) [cm]

| | | | |
| --- | --- | --- | --- |
| 1100-04250 | 1100-04260 | 1100-04255 | 1100-04265 |
| | | | |
| | | | |
| 0 | 0.3 – 10 | 0 | 0.3 – 10 |
| G ⅜" | G ⅜" | G ⅜" | G ⅜" |
| | | | |
| | | | |
| 2 – 6 | 2 – 6 | 2 – 6 | 2 – 6 |
| 1 (0.1 – 10) | 1 (0.1 – 10) | 1 (0.1 – 10) | 1 (0.1 – 10) |
| 2 (0.5 – 20) | 2 (0.5 – 20) | 2 (0.5 – 20) | 2 (0.5 – 20) |
| | | | |
| 11.0 | 11.0 | 11.0 | 11.0 |
| 13.3 | 13.3 | 13.3 | 13.3 |
Media type
Title
Date
Size

Product information sheet

AEB-AEB-C-AEN-AEN-C-PI-en.pdf

18.10.2018

> download
Product information sheet
AEB-AEB-C-AEN-AEN-C-PI-en.pdf
18.10.2018
716 kB
> download

Product information sheet

Taps-for-pressureless-water-heaters-PI-en.pdf

21.12.2022

> download
Product information sheet
Taps-for-pressureless-water-heaters-PI-en.pdf
21.12.2022
2,3 MB
> download

Operating and installation instructions

AEB-AEN-Lumino-GMA-de-en-it-fr.pdf

03.08.2022

> download
Operating and installation instructions
AEB-AEN-Lumino-GMA-de-en-it-fr.pdf
03.08.2022
3,7 MB
> download
Older versions

>

Operating and installation instructions
AEB-AEN-Lumino-GMA-de-en-it-fr-10-2018.pdf> download
> download
Operating and installation instructions
AEB-AEN-Lumino-GMA-de-en-it-fr-12-2016.pdf> download
> download
Operating and installation instructions
AEB-AEN-Lumino-GMA-de-en-it-fr-VS-05-2015.pdf> download
> download
Further versions on request

Product photo

AEB-AEB-C-AEN-AEN-C-Produktfoto.jpg

03.08.2020

> download
Product photo
AEB-AEB-C-AEN-AEN-C-Produktfoto.jpg
03.08.2020
58 kB
> download

Price list

CLAGE-Product-Price-List-PPL-en.pdf

10.05.2023

> download
Price list
CLAGE-Product-Price-List-PPL-en.pdf
10.05.2023
6,6 MB
> download