Tap for disposal sinks
SMB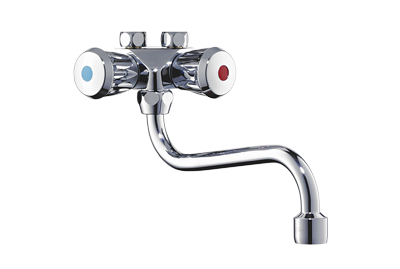 Tap for disposal sinks.
For tapping points (e.g. sinks or cleaning basins) where the water connections are located in the wall above the basin, we offer these pressureless fittings. They are mounted directly on the water heater and score with their high-quality chrome surfaces and practical functions in any environment.
For E-mini instant water heaters, spout 16 cm. Also available as a set with small instantaneous water heater: M / SMB.
Data. Values. Facts.
SMB

Part number
Type: vented
Water connections (thread connections)
Swivel spout
For mini instant water heaters
Spout [cm]
Media type
Title
Date
Size

Product information sheet

Taps-for-pressureless-water-heaters-PI-en.pdf

21.12.2022

> download
Product information sheet
Taps-for-pressureless-water-heaters-PI-en.pdf
21.12.2022
2,3 MB
> download

Price list

CLAGE-Product-Price-List-PPL-en.pdf

10.05.2023

> download
Price list
CLAGE-Product-Price-List-PPL-en.pdf
10.05.2023
6,6 MB
> download