Hand dryer
WHT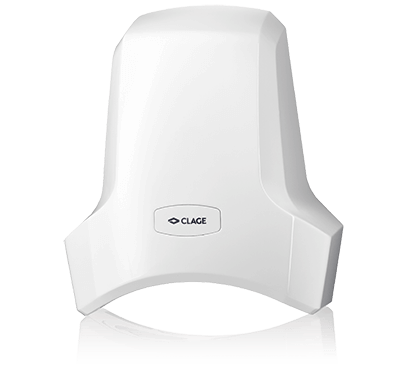 WHT

: 1.0 kW, 230 V
Infrared touch-free sensor
This is where the WHT is used.
Wash hand basin (e.g. guest toilet)

Sanitary facilities in commercial buildings

Public washroom facilities
And after washing your hands: Hygienic hand drying.
The hand dryer will turn on and off automatically via an electronic infrared sensor when you approach it with your hands. The optimised air outlet with a strong air flow allows for fast and comfortable hand drying. It also features a very low noise level and energy-saving operation.
Comfort air hand dryer

for wash-room facilities
Touchless on/off function
Low noise level: max. 69 dB (A)
Safety shut-off after approx. 35 seconds continuous use (e.g. in the event of chewing gum vandalism)
The impact-resistant ABS case and the quiet, no-maintenance motor ensure a long service life
Easy, maintenance-friendly wall installation with ­integrated mounting plate (without having to open the unit)
Connecting cable (~25cm)
Connection terminal for fixed connection easily accessible by separate flap
Extremely economical operation
The air flow is heated energy-efficiently by the waste heat from the motor.
Air intake grille suitable for vacuum cleaning
Rating 1.0 kW 230 V (air flow: 38 l/s)
Dimensions (height × width × depth): 30.4 × 26.8 × 18.2 cm
Data. Values. Facts.
Part number
Nominal power rating at 230 V [kW]
Supply voltage [1~ / N / PE 230 V AC] with plug: Schuko Typ-F (CEE 7/7)
Nominal current at 230 V [A]
Colour (pure white RAL 9010)
Motor output [W]
Noise level [dB]
Air flow [l/s]
Relative drying time [s], approx.
Protection class
Weight with wall mount [kg], approx.

7000-70300
1.0
4.3
1000
69
38
17
IP 23
3.0
Media type
Title
Date
Size

Product information sheet

WHT-PI-en.pdf

18.10.2018

> download
Product information sheet
WHT-PI-en.pdf
18.10.2018
562 kB
> download

Operating and installation instructions

WHT-GMA-de-en-fr-nl-es-pt-da-sv-no-fi-pl-cs-sk-ru.pdf

11.07.2017

> download
Operating and installation instructions
WHT-GMA-de-en-fr-nl-es-pt-da-sv-no-fi-pl-cs-sk-ru.pdf
11.07.2017
8,1 MB
> download
Older versions

>

Operating and installation instructions
Buch-WHT-GMA-14 Sprachen-05-2017.pdf> download
> download
Operating and installation instructions
WHT-GMA-de-en-fr-pt-08-2016.pdf> download
> download
Further versions on request

Exchange manual

WHT-Austauschanleitung-alt-gegen-neu-de-en.pdf

09.10.2017

> download
Exchange manual
WHT-Austauschanleitung-alt-gegen-neu-de-en.pdf
09.10.2017
1,3 MB
> download

Catalogue

CLAGE-Instantaneous-water-heater-Catalogue-en.pdf

20.06.2023

> download
Catalogue
CLAGE-Instantaneous-water-heater-Catalogue-en.pdf
20.06.2023
21,7 MB
> download

Catalogue

CLAGE-Brochure-en.pdf

31.01.2023

> download
Catalogue
CLAGE-Brochure-en.pdf
31.01.2023
5,7 MB
> download

Price list

CLAGE-Product-Price-List-PPL-en.pdf

10.05.2023

> download
Price list
CLAGE-Product-Price-List-PPL-en.pdf
10.05.2023
6,6 MB
> download

Datanorm

Datanorm.zip

05.02.2021

> download
Datanorm
Datanorm.zip
05.02.2021
17,0 MB
> download

GAEB

GAEB.zip

25.11.2020

> download
GAEB
GAEB.zip
25.11.2020
36 kB
> download