E-mini instant water heaters
M-series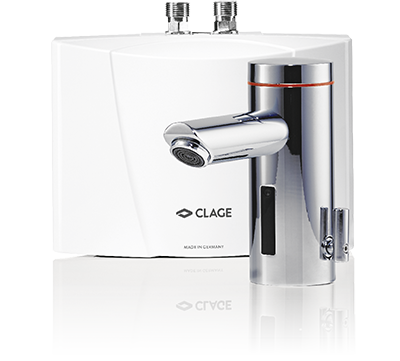 Energy efficiency class A
(Scale: A+ to F)
Our electronic instantaneous water heaters are a clever and efficient solution for the hand basin! With CLAGE small instantaneous water heaters you have perfectly tempered water for washing your hands in seconds. By the way, our mini instantaneous water heaters offer you a shapely design and are easily mountable under every hand basin due to their small size.
Hot water demand:

For which applications are small instant water heaters suitable?
Mini instantaneous water heaters are especially suitable for use on hand-wash basins. Whether in private households or office buildings – small instantaneous water heaters are a cost and space-saving solution for hot water supply. Particularly small and in a modern design, they can be installed directly at the wash basin in guest WC or bathroom. By installing instantaneous water heaters directly at the tap, you avoid long water lines and have well-tempered water for hand washing within a few seconds.
CLAGE has the suitable small instantaneous water heater for every need and application. Whether electronically controlled, for over-table or under-table mounting, with a smart keypad or without – choose the right instantaneous water heater for your washbasin.
Your advantages at a glance:
Lowers operating costs

Energy savings

Saves space

19 × 14 × 9 cm

Instantly at the right temperature

No dripping taps

More hygiene

due to short water lines

Environmentally friendly

Less water + energy
Advantages of mini instantaneous water heaters:
Small electric instantaneous water heaters do not consume stand-by energy! While, for example, a 5-litre hot water tank at the hand wash basin stores and heats water up continuously, a small instantaneous water heater only uses energy when water is needed at the tap. The water is heated instantly only in the amount and desired temperature for the time the tap is actually opened. The times when you burned your hands because the water temperatures were too hot are now a thing of the past. Since no pressure of heated water has to be released from small instantaneous water heaters, you save yourself the additional annoying dripping fittings, as is often the case with storage tanks.

The advantages at a glance:
> Warm water in seconds
> Energy saving
> Water saving
> Attractive design
> Easy handling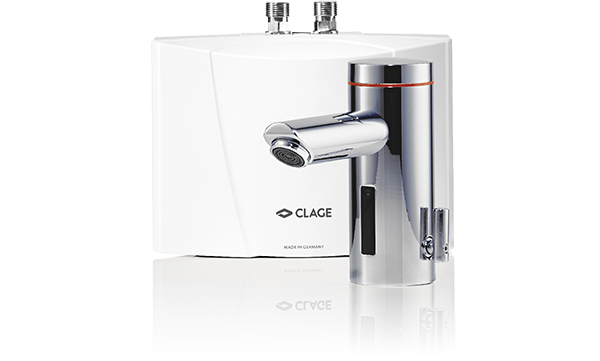 All products at a glance:
You should pay attention to this when buying:
As a rule, our small electric instantaneous water heaters are used to supply hot water to the hand wash basin. Before purchasing, you should check whether you want to install a ready to plug in or a device with a permanent connection. Our ready to plug in models have an output of 3.5 kW. With a fixed connection, you can select devices up to 6.5 kW.

Small instantaneous water heaters such as our electronically controlled CLAGE MCX also have a keypad which you can use to set the outlet temperature to 35 °C, 38 °C or 45 °C. Also consider whether you have enough space under the hand basin for the small instantaneous water heater or whether you would like to install an over the sink unit such as our CLAGE M-O to save space.
All important data, such as dimensions, can be found on our product information sheets, which we have made available to you for download on the pages of the individual products and in our Media Centre.

Of course we offer you the suitable taps for all our CLAGE small instantaneous water heaters, which you can purchase as a set. Whether single lever mixer, double handle fitting or a particularly hygienic non-contact fitting - we have numerous options for you.

We would be happy to advise you in a personal conversation. You can contact us by phone or e-mail. Take advantage of our Online Product Advice, with which we will guide you step by step to the optimum instantaneous water heater for your individual area of application.