E-comfort instant water heaters
D-series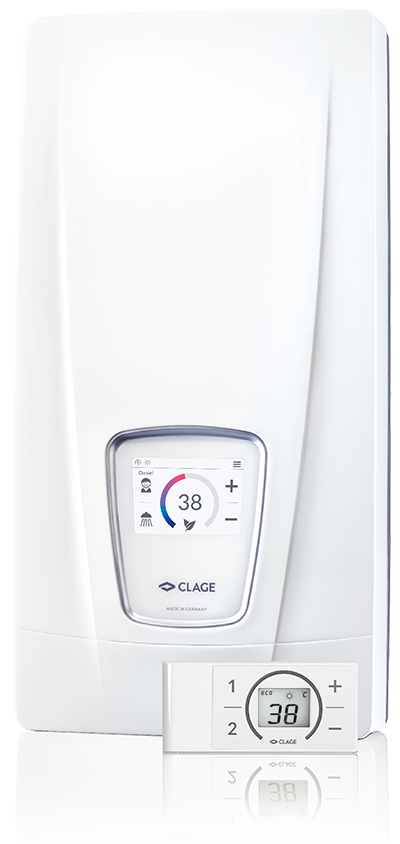 Energy efficiency class A
(Scale: A+ to F)
Instantaneous water heater for the bathroom: your personal spa area! A CLAGE instantaneous water heater in the bathroom is the right choice for you, if you want a comfortable hot water supply in the bathroom and save valuable energy at the same time. The powerful design devices can be installed hidden on the wall, in a piece of bathroom furniture or behind an inspection opening and thus fit perfectly into any bathroom.

> Watch the video spot about our top device DSX Touch
Hot water demand:

One instantaneous water heater for shower, bathtub and hand basin.
CLAGE electronic instantaneous water heaters offer you full comfort for your entire bathroom. Those who are tired of waiting forever in the morning until the warm water finally arrives in the shower and does not want to waste valuable tap water unnecessarily are well advised to use the innovative instantaneous water heaters in the bathroom.
The devices heat the water to your individually set desired temperature in seconds and also score points for their short pipe routes, as they are installed near the respective tap. This saves you time and money and you can enjoy the desired comfort in the bathroom at any time.
Your advantages at a glance:
Lowers operating costs

Energy savings

Instantly at the right temperature

On demand and without waiting

Adjustable ideal temperature

No addition of cold water

More hygiene

due to short water lines

Environmentally friendly

Less water + energy
All products at a glance:
Our fully electronic instantaneous water heaters for the bathroom include:
DSX Touch
The DSX Touch is the new top of the range E-comfort instantaneous water heater. The fully electronically controlled high-tech instantaneous water heater is characterised by its innovative real glass touch display and the Bluetooth remote control. The comfortable instantaneous water heater can be operated via modern voice control systems (e.g. Alexa), Smartphone and Tablet. It can store several user profiles with the preferred temperature settings and can thus be adapted to the individual needs of the users. The new DSX Touch can act as a home server for next-generation CLAGE instant water heaters. It's a built-in future!
> to product page DSX Touch

Product innovation
DEX Next S
The new DEX Next S for shower and bath meets very high comfort requirements and impresses with state-of-the-art technology and durable materials. The compact design is resource-saving. The device is operated in a user-friendly way via the e-paper display. The integrated Bluetooth function allows the unit to be controlled by remote control, smartphone or tablet. The use of the "Smart Control" app facilitates the commissioning and maintenance of the instantaneous water heater.
> to product page DEX Next S
New product
DSX Touch Twin
With the DSX Touch Twin complete set, you get a solution that combines two instantaneous water heaters and is therefore suitable for supplying one or more taps with increased hot water requirements. With a special installation frame and a radio remote control you can turn your rain shower into a wellness oasis.
> to product page DSX Touch Twin

Further advantages of the DSX Touch:
> Smart Control capable
> Suitable for solar energy
> Radio remote control included
Our electronically controlled instantaneous water heaters for the bathroom are:
DEX Next
The comfort instantaneous water heater DEX Next features a large high-contrast real glass e-paper display and sensor keys for high operating comfort. Optionally this device can be equipped with a radio remote control for an even more comfortable control.
> to product page DEX Next

New product
DCX Next
The comfortable DCX Next instantaneous water heater convinces with its simple operating concept. By pressing a button you can select between five different water temperatures. These correspond to the temperatures that are usually required at the washbasin, shower or kitchen sink.
> to product page DCX Next
New product
DBX Next
The new DBX Next is the basic model of the D-series and, unlike the other models of the instantaneous water heater series, does not have a control panel. Nevertheless, the device convinces with a favourable price and the usual CLAGE quality. To work efficiently, the DBX Next automatically adjusts its output to the flow rate and inlet temperature.
> to product page DBX Next

All devices are suitable for both individual and group supply at several taps.
Bathroom instant water heaters – fully electronic or electronically controlled
CLAGE offers the right instantaneous water heater for every need and application. As with our small instantaneous water heaters and instantaneous water heaters for the kitchen, you can also choose from a variety of different appliances for our instantaneous water heaters for the bathroom.

In addition to the individual control panels and the number of kilowatts to be selected, another criterion is whether the instantaneous water heater is controlled electronically or even fully electronically. While an electronically controlled instantaneous water heater regulates the electrical output measured at the output temperature, a fully electronic instantaneous water heater additionally adjusts the flow rate in order to deliver the desired hot water temperature precisely to the degree.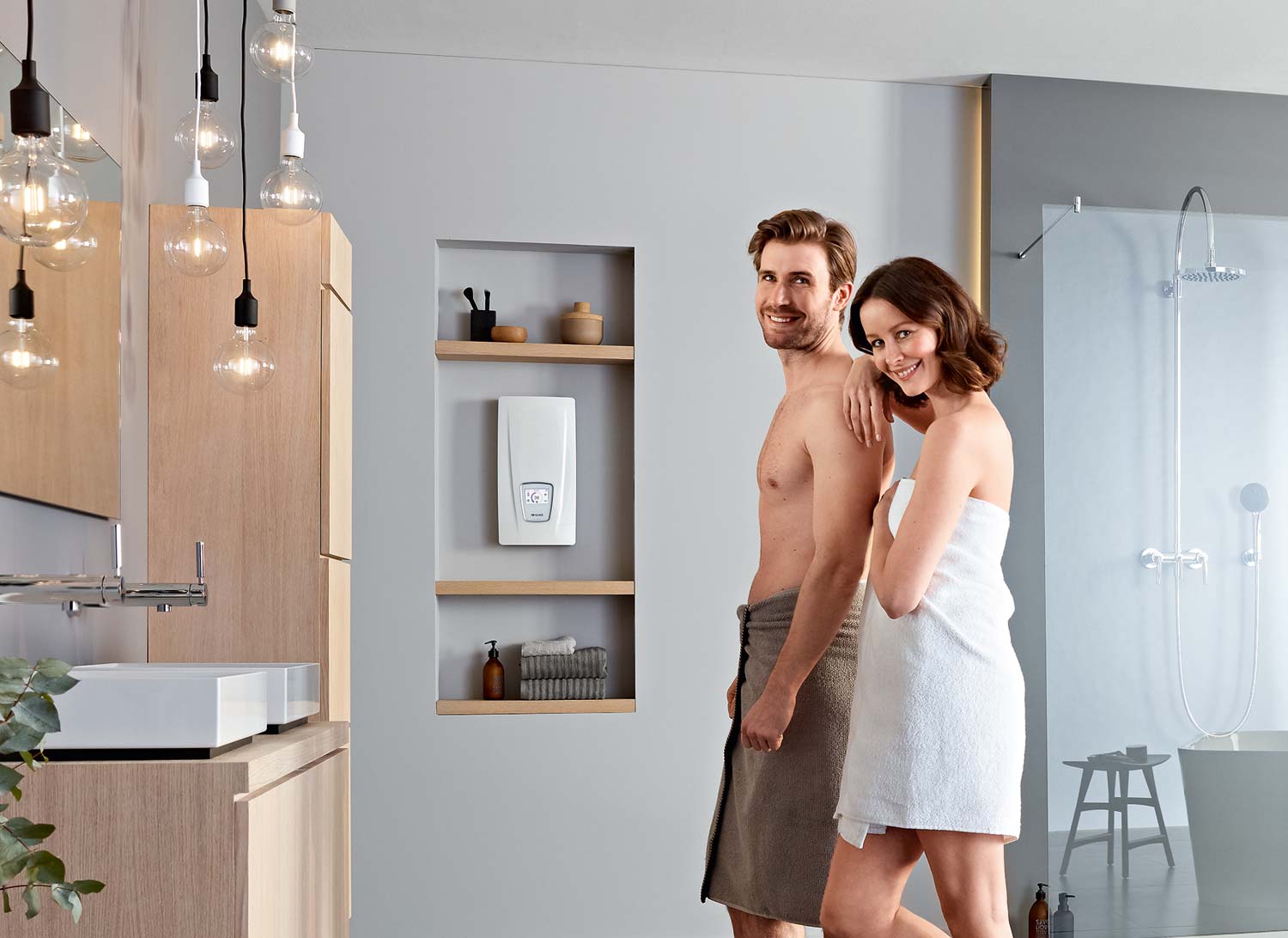 A flow heater for the bathroom - which one is right for me?
If you require further information about our comfort instantaneous water heaters, you can easily download further product information via the individual product pages or our Media Centre.

With the help of our Online Product Advice, you can display suitable instantaneous water heaters for typical hot water applications.
If you are still unsure which instantaneous water heater is suitable for your application requirements, please also contact our competent and trained staff. They will be happy to advise you by telephone or e-mail about the best solution for hot water supply in your house or apartment.

We are looking forward to your enquiry!